McFIT saves up to 40% of time on its expense management process
McFit's immense success is the result of a constant effort to think differently and set new goals. At the forefront of this is Chantal Garicano, the head of the Administration and Finance department at McFIT. She applied McFIT's revolutionary spirit when she transformed the company's expense management process.

Challenge
Colleagues from the accounting department were spending a full day on processing expenses.
Traveling employees had to manually fill out expense reports in an excel sheet.
Traveling employees needed to keep all the corresponding physical receipts to be verified and accounted for.
Why Rydoo?
Chantal didn't want a

complex system or a really time-consuming implementation project.

The general manager thought the tool was "brilliant", he really liked the

international aspect of Rydoo.
She wanted to be able to easily calculate the project's final cost. 
Results
The expense management process is now more efficient and paperless.
Rydoo was implemented in 8 weeks.

The

finance team

has saved approximately 25-40% of its time processing expensing.

The

accounting department

has reduced its level of manual work.
Rydoo's integration with SAP

has increased data traceability and general-spending visibility.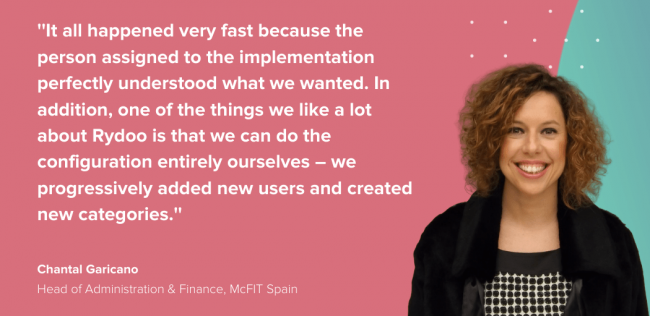 Take T&E management easy.
Automate your expense management process.