Work-related travel isn't always enjoyable. Waking up early to catch a 6 AM flight, spending hours in a steel tube with loud passengers, and dragging your jet lag into your first encounter – the reality of flying is not as romantic as it seems. Let's not even get started on how much time you spend away from friends and family if you're a frequent corporate traveler.
Even though international videoconferencing has become a commodity thanks to apps like Skype, business travel has grown into an enormous industry. A recent report by the GBTA Foundation notes that in 2016 US companies spent a combined $424 billion on sending their employees on a staggering 514 million domestic business trips.
For companies, however, dealing with corporate travel is still pretty complicated. Flights need to be approved and paid for while making sure employees get the right seats at the right price. Sometimes flights get delayed or canceled, leaving you with the administrative hell of requesting an airline refund. For large companies, all of this gets exponentially more difficult when you have hundreds of employees flying across the world all the time — that's why it's important to manage it the right way.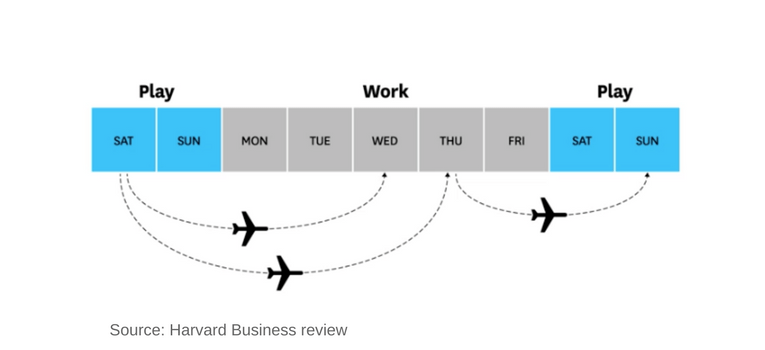 Next-generation corporate travel
Changing travel trends combined with the complexity of current travel management leaves a lot of room for improvement.
That's why Rydoo Travel integrates everything you need into one sleek package, enabling you to keep track of travel policies, preferred suppliers and approval flows from a single dashboard. Employees are met with an easy-to-use interface for booking their next trip, while you control which routes, airlines, and prices to display.
When someone requests a trip, it either gets automatically approved based on a customized workflow, or it's sent to the right person for clearance. Rydoo Travel isn't limited to transport either, pulling hotels from your favorite websites, Booking.com, Expedia, and many more listings to make booking your next trip a matter of a few clicks.
A modern travel platform doesn't limit itself to the booking process — quite the contrary.
Throughout your trip, Rydoo Travel is always available on mobile for last-minute adjustments to your itinerary, and proactively gives recommendations if, for example, a flight gets canceled.
In a lot of ways, the platform feels like a consumer product rather than a corporate solution, focusing on ease of use and tightly integrating many travel options. It's designed to replicate the experience of booking a leisure trip, offering full flexibility in an accessible tool that satisfies anyone on your team — from someone in Business Development to the CFO.
Bleisure
This new take on corporate travel comes as a response to an interesting trend that has been taking shape in business travel over the last few years. Though business travel can feel like a necessary evil, there's a tiny silver lining — at least you get to see the world. It's just that you don't have time to actually enjoy it.
A rising number of people are using their business trips as an opportunity to do something fun — they're visiting a different city, after all. By tacking on a couple of leisure days to their trip, this new generation of business travelers leaves some space to enjoy their time away.
This new combination of business and pleasure is often summed up with a portmanteau — bleisure — and it has quickly become a popular phenomenon. According to recent research, 20 percent of business travelers now take a little time off while abroad. Among the most popular cities for bleisure trips are London, San Francisco, Singapore, New York, and Paris — all large cities with lots of ways to spend some quality downtime.
With many workers hopping on the bleisure trend, it's sure to be a catalyst for modern, personal travel solutions. Mix in the billions of dollars spent on business travel, and you get an industry that's about to explode. Business trips around the world are about to get a lot better, and maybe everyone will even end up having some fun.