Business travel is now returning and for many people, this will be the first time that they have had to journey abroad for work.
There are some key tips that seasoned travellers will tell you that make journeys much easier and mean that you arrive at your meetings refreshed.
We've put together a few of our favourites in a traveller's checklist to help you make the best of your business travel.
Pack with security checkpoints in mind
One of the biggest bugbears from business travellers is the time taken to get through security checkpoints.
They are a necessary evil, so it is important to make it as easy on yourself as you can.
Pack all of your electrical items at the top of your bag so they can be separated out, don't carry spare change in your pockets and make sure you only take a maximum of 100ml of any liquid and keep them in a clear plastic bag.
Make sure you have electrical adaptors
If you are travelling for business then it is a fair bet you'll have a lot of electrical equipment but you need to remember that not every country uses the same voltage or electrical sockets.
Do your research before you go and invest in some good quality adaptors that will mean you can charge your laptop, phone, tablet or any other device you may need.
Use a good expense management tool
Experienced travelers will tell you that collecting a receipt or invoice for every item of expenditure can be a real pain.
Not only do you have to collect the pieces of paper and then carry them around for the duration of your trip you also have to make up an expense claim when you get back home and if you've lost any of your receipts then…
Rydoo is the perfect answer for business travelers as it allows you to snap a photo of any receipt wherever you are in the world and this gets automatically added to your expenses claim.
One really helpful feature is the integrations with Uber and Lyft so that you can always get a transfer from the airport and won't need to keep the receipt.
Rydoo even has a link with international VAT reclaim partners meaning that your company can easily claim back VAT paid on trips in a compliant manner.
The money could even be in your bank account by the time you get back to the office!
Choose good quality luggage
If you are likely to have to travel regularly then you need good quality luggage.
For shorter trips then a carry on cabin bag will probably be fine but the important thing is to make sure you don't go cheap.
Better quality luggage will stand up to the rigours of baggage handlers and more importantly is more likely to protect your things.

Use per diems where possible
Many companies use a per diem system that gives business travelers a set amount of money to spend each day that they are away with no receipts and no tax charge.
This is really helpful if you are expecting to have lots of small expenses that would be difficult to manage otherwise.
Find out if your company uses per diems and if they don't, explain the benefits and encourage them to take it up.
Learn about our digital expensing
Include some gym kit or casual clothes
If you spend hours traveling then you'll probably feel like you have a bit of a hangover when you actually get to your destination.
Take some casual clothes or gym kit so you can get a bit of exercise and explore the locality in the evening.
You'll sleep better, your head will be clearer and you'll also feel that it hasn't just been a boring work trip.
Choose healthy food
Hardcore business travel can be a real trial and if you are not careful not only do you find that you are getting little exercise but also you are eating badly in takeaways and restaurants.
Make sure you get your five a day and choose healthy options (or just take it with you), so that you're not taking extra baggage home with you!
Charge before you go
Don't expect that you will be able to charge either at the airport or on the plane.
Charge your devices before you go, especially if you are taking a table to watch movies on or an e-reader to catch up with your favourite book.
Nobody likes a long flight with nothing to do.
Take small bills
Don't assume that because your local shops take debit cards and phone payments that businesses in your destination will do the same.
Take a selection of bills in smaller denominations so that you can always pay for a quick coffee or some of that healthy fruit.
Remember to always ask for the receipt, so you can expense it afterward.
Learn about our receipt scanner
What will business travel look like after covid-19?
Check out credit card rates
Be aware that if you pay on your card your bank may make hefty transaction charges for each time you spend and punitive conversion rates.
Check out the rates your card issuer charges and consider checking out some of the specialist credit cards that are specially designed for frequent travellers.
But confine it to Mastercard or Visa members because other issuers may not be accepted everywhere.
Make sure your phone has the right tariff
Phone companies love to charge 'roaming' fees for international travel so be aware that phone calls may become incredibly expensive while you are away.
If you are an EU national, telecoms providers can't do this but for the rest of us being forewarned is forearmed.
If your phone company does charge a huge uplift then consider getting a local sim only deal so that you can still make calls at a reasonable rate.
Be especially careful when driving through Switzerland, this can cause an enormous cost on your bill at the end of the month!
Efficient travelling is all about preparation
None of our tips are earth-shattering in their originality but taken as a whole they can have a dramatic impact on how much you enjoy your business travel.
You'll be in a better frame of mind to do business and you won't feel quite so frazzled when you get home.
The key is to prepare properly for your trip, do a little bit of research, and get all of your ducks in a row before you leave to make your journey as easy as possible.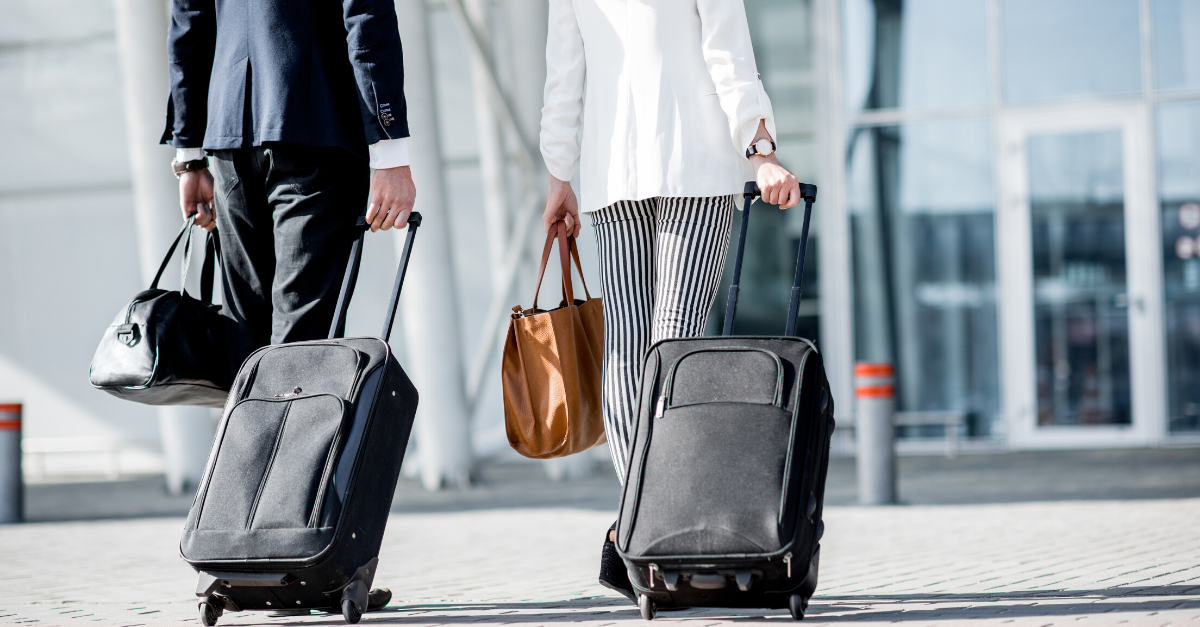 Make business travel a doddle - choose Rydoo
Rydoo is designed by business travelers for business travelers.
If you want a simple and efficient way to manage your expenses then why not book a call and see how easy our solution is to use?
Bonus - Tips from our Head of Content, Rachel Young
#1 Don't sit down too much before the flight (lot's of time to sit during the flight)
#2 Bring a refillable water bottle (empty before security control and refill at the water fountain afterwards for the flight)
#3 An e-reader is super handy – much lighter than lugging around several books
#4 Make sure you have the right size and amount of carry-on luggage to avoid it being checked-in or extra costs AND try to not be the last on the airplane or the overhead bins might already be full and you'll have to check it in afterall (but it'll be free of charge, and the last in the hull, so the first out) or to avoid this all together, use a backpack, this will always fit under the seat in front of you.