The workplace is still not gender-balanced. With a few exceptions, males continue to dominate most businesses and areas. However, progress toward gender parity in the workplace is constantly improving.
Published by McKinsey for the sixth consecutive year, the "Woman in the Workspace" shows the evolution at different levels: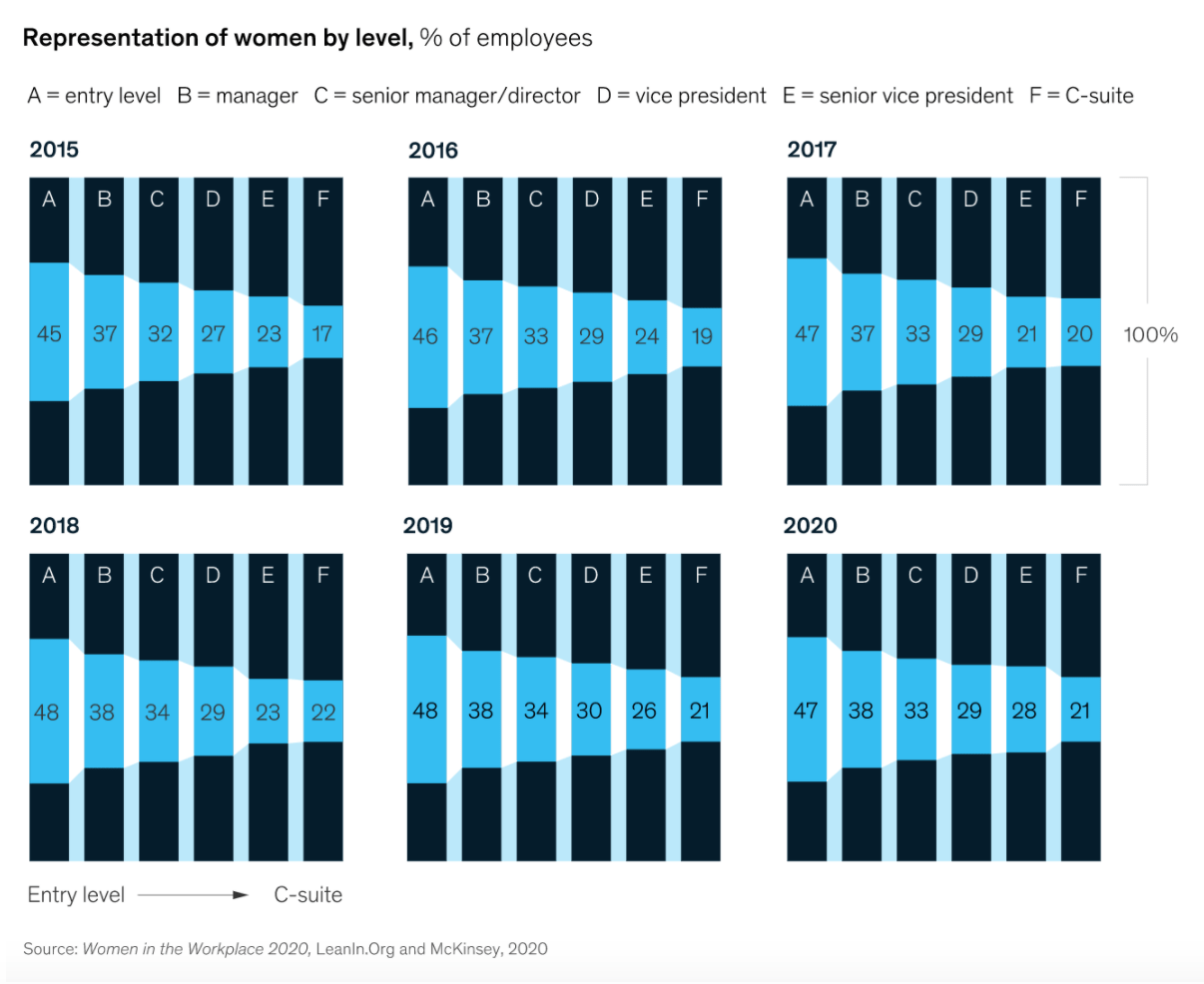 Since women entered the labour market in large numbers around the 1970s, the world has experienced various changes and numerous technological disruptions. 
One consistency is the presence of books! (Even though the formats have changed.)

That's why we scoured the internet and spoke to some successful women to find out which books have influenced their journey and gathered the answers in this blog. Check them out: 

Oprah Winfrey - Talk Show Host, Philanthropist and Businesswoman
As Oprah Winfrey once said: "Books are my pass to my personal freedom". The American talk show host, philanthropist, and businesswoman is so fond of books that she created her own online book club where she shares and exchanges experiences about transformative books on multiple themes.

Oprah once wrote in her blog "I still remember the shock of recognition I felt when I first read Maya Angelou's I Know Why the Caged Bird Sings—a sensation that remains indelible even now." 
The work written by Maya Angelou is the first part of her 5 volume autobiography and was released in the early 1970s. At that time, an autobiography written by a woman, especially a woman of color, was pretty much a political act that reinforced the importance of women's lives. 
The book covers topics such as self-knowledge, sexuality, family and although it is aimed at the general public, it brings with it a facet that seeks to show how difficult it is to be black and a woman in the USA. 

Paula Paschoal - President of PayPal Brazil

Sonia Ossorio - President of National Organization for Women in NY
In an interview with Fast Company, Sonia Osorio, president of the National Organization for Women in NY, said that one book that has pervaded her journey as a businesswoman was "How to Succeed in Business Without a Penis: Secrets and Strategies for the Working Woman", written by the world-famous author Karen Salmansohn. 

She explained in her 101 with Fast Company that "Women gaining more power to lead, green-light projects, and innovate does not come at the expense of men. In fact, women at the table make more successful businesses. This book gives you straight, practical advice about how to navigate the workplace, put your best self forward, and maintain your resilience, creativity, poise, and humour."

Christina Junqueira - Co-Founder of NuBank
Nubank is one of the most popular unicorns (startups with a current valuation of US$1 billion – or even more) in Brazil. The digital bank has quickly become one of the 4 most valuable financial institutions in Latin America and its valuation reached 10 billion in the last investment round. On top of that, its user base has tripled from 2016 to 2019, reaching the 34 million customer mark.
Cristina Junqueira, co-founder of "Nu" (as it has been affectionately nicknamed) told Feedz one of the secrets of the institution's success – and guess what, it's a book! 
"Start with Why: How Great Leaders Inspire Everyone to Take Action" by the best-selling author Simon Sinek is, according to Junqueira, a "bible inside of Nubank". The book highlights the vitality of taking purposeful action, but also the importance of communicating that motivation well to the whole team. 
In the same interview, the businesswoman mentions another book that addresses female leadership. Melinda Gates' "Customers who viewed The Moment of Lift: How Empowering Women Changes the World". 
The teachings of the book – mainly around the valuation of women – are already reflected in Nubank. The bank has 43% of women in leadership positions and the plan is only to grow this number further. 

Roberta Rosenburg - CFO of Husqvarna LATAM
This is not the first time we have talked to Roberta Rosenburg. Last year, we published an interview in which the LATAM CFO of Swedish company Husqvarna discussed the role of female leadership in finance departments and told us a little about her journey. 
When asked about a book that impacted her journey, Roberta quickly told us "If I say there was only one book that impacted my life, I won't be contributing much." Indeed, a number of attributes transform our lives, from people to experiences, places to education, and of course, books.
Up to the publication of this blog, the businesswoman is reading the best seller "The Power of Habit" by Charles Duhigg. "That book helps us understand what we do on a daily basis without thinking and even by instinct."  
It is undoubtedly a work acclaimed by different leaders around the world, and its success can be attributed to its main questioning: why do we do what we do in life and in business.

Ginny Rometty - Former Executive Chairman and CEO of IBM, Co-Chairman at OneTen
Ginni Rometty is a well-known name in the business world. The former IBM CEO has built a solid 39-year career in the company over the years and has also been on the board of different organizations such as JP Morgan. 
The businesswoman says in an interview that the book "The Digital Matrix: New Rules for Business Transformation Through Technology", by renowned Indian Professor Venkat Venkatraman is a fundamental work for any leader in any industry that believes in digital transformation. 
 "Although aimed at traditional industries, The Digital Matrix will, I believe, be invaluable to all leaders, whether of established institutions or cloud-born startups. It is nothing less than a roadmap for the next era of business transformation."
The book is structured virtually in triads, through which the reader will learn about the three types of players that are shaping business nowadays, the three stages of transformation, and the three top strategies to ensure the company's success.