If Business Email Compromise (BEC) doesn't ring a bell, you might have heard of it under another name such as "man in the email attack", "Bogus Invoice Scheme" and "CEO fraud/impersonation". Business Email Compromise happens when an attacker gains access to a corporate device or system (via phishing websites, hacking, or malware) and impersonates the real owner of the account to get money from the victims. 

The goal of the attack is to deceive and defraud the organization, its employees, partners, or customers. By sending emails from a known source or a spoofed domain, the content of the email seems "legit"  to the receiver.
Why should finance professionals pay attention to BECs
Together with high-level executives, professionals working in finance departments are the most targeted by cybercriminals because they are the ones who handle budgets, have access to payroll and other general finance matters. 
Any business that makes regular payments can be a victim of a cyber attack like Business Email Compromise. Whether you work for a big enterprise, school, non-profit organization, or own a  small family business, you might be under the radar of hackers as you're reading this.
The most common topics for business compromised emails
The FBI  has compiled a list of most common email topics:
1.  A fraudulent invoice scam: A vendor that your company regularly deals with sends an invoice with an updated mailing address.
2. Fake boss scam: A company CEO asks her assistant to purchase dozens of gift cards to send out as employee rewards. She asks for the serial numbers so she can email them out right away.
3. Fake company request: A homebuyer receives a message from his title company with instructions on how to wire his down payment.  
How does modern workspaces lead to better business decisions?
Find out in our 101 with Microsoft
The scope of the attacks
The scope of the attacks is impressive. In 2018, the Federal Bureau of Investigation shared that Business Email Compromise cost businesses approximately 5.3 billion around the world. In 2016, in the US only, there were 40k cases of Business Email compromise registered. 
Big companies around the world have been the victim of this kind of scheme for a long time. Xoom Corporations, the Californian international money transfer organization suffered an attack that cost them U$ 30,8 million in corporate cash. It caused the company's stock to dip by 14%, costing them approximately $31 million and prompting their CEO to resign. 
How to prevent Business Email Compromise?
Ensure you and your employees know the red flags 
The FBI and Interpol have set some recommendations to help your company become "BEC-proof". Read on to find out what you can do as a finance leader to make sure your company, and especially your department, is as protected as it can be.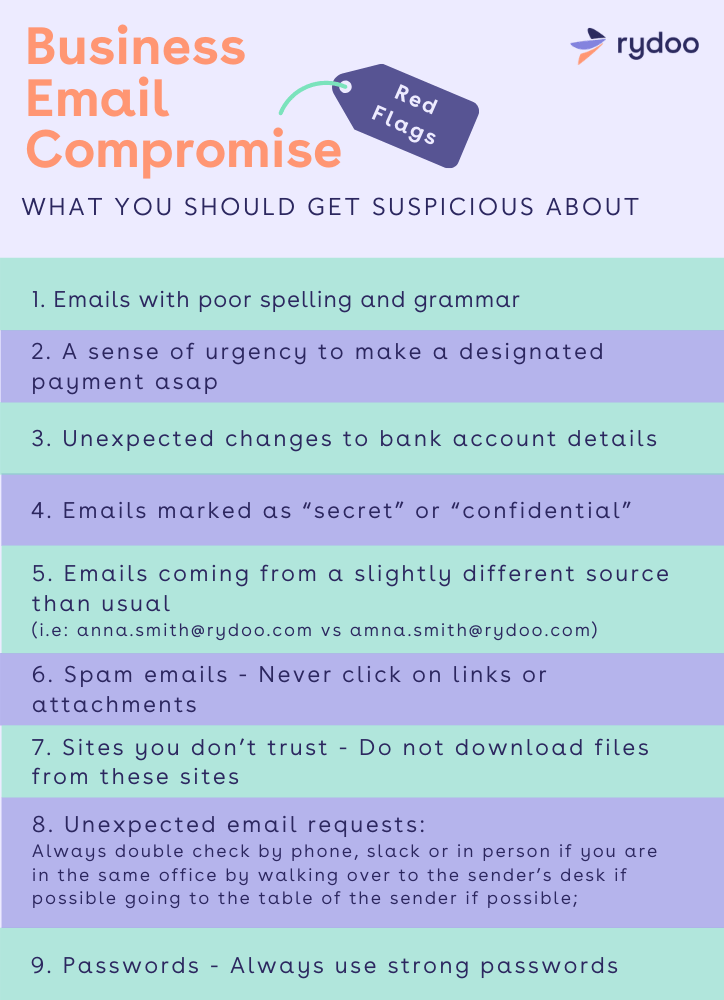 Make sure that your team is well-informed about all of these red flags. Partner up with IT to explain why it's so important they pay attention to them. 
Remember that your employees might have a lot on their minds. This means and that guidelines can sometimes be missed or forgotten. To make sure they stick in everyone's mind, make posters highlighting the red flags and put them up around the office. The more they see them, the more likely they are to remember them.
I've been scammed, now what?
The worst-case scenario happened and you've been scammed by a  Business Email Compromise attack. Breath, don't panic. Here are 3 basic steps you need to take, as recommended by Interpol, after paying money out to  hackers: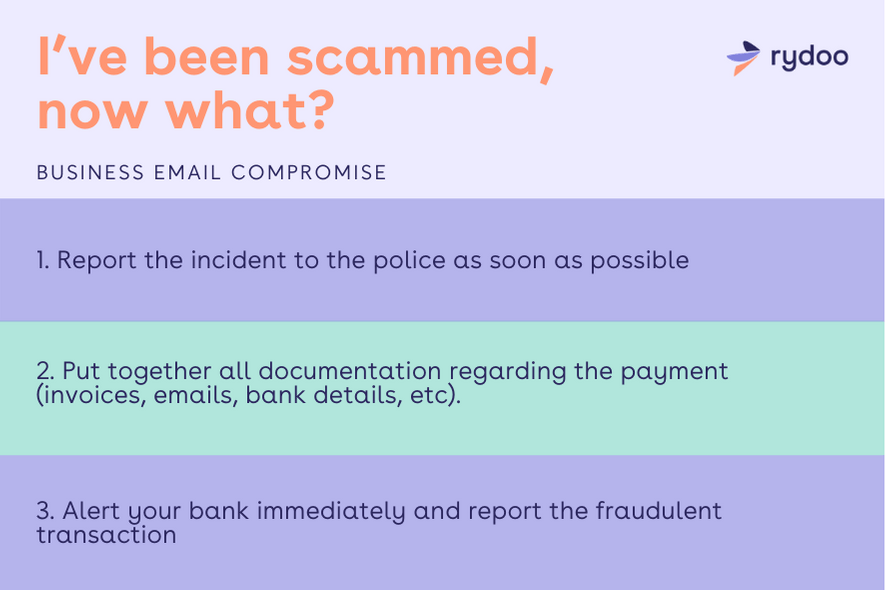 Now that you know why you should pay close attention to Business Email Compromise, the most common email topics to watch out for, the scope of the attacks, and how you can protect your business, you'll be well equipped to take action and empower your employees.