The world is changing, not just in the physical sense as climate change makes its presence felt but also in terms of society's expectations of businesses.
It is no longer an option to hope that the issue of environmental responsibility will just go away because now more than ever, consumers and investors are expecting the businesses they use to also be good corporate citizens.
So with this in mind, what is Environmental, Social and Corporate Governance (ESG) and how does the whole issue relate to the business world?
In this article, we are going to look at ESG and try to demystify some of the aspects involved.
What Are Environmental, Social, and Governance (ESG) Criteria?
ESG criteria are measures that show how a business is responding and caring for the environment in which it operates.
Surprisingly, ESG criteria aren't a new thing. In fact, they started to appear around the time of the Vietnam war as investors sought to find businesses to support that followed an ethical worldview.
Originally this began as a call for institutional investors to stop investing in arms companies but since then the remit has widened to three main categories; Environmental, Social and Governance.
Types of Environmental, Social, and Corporate Governance (ESG) Criteria
ESG criteria have been formally used as a method of assessing the investment outlook of institutional investors however it also serves as a useful proxy for consumers and B2B customers when they are considering their purchasing.
A company that wishes to develop an ethically sound business model must, in turn, look at its suppliers and ensure that they aren't contravening ESG principles.
By the same token, Investment companies that want to provide an ethical retail investment product, need to hold only stocks that conform to the ESG standards.
And institutional investors who have cash available to invest as a result of its ESG compliant operations should also ensure that its treasury function also complies.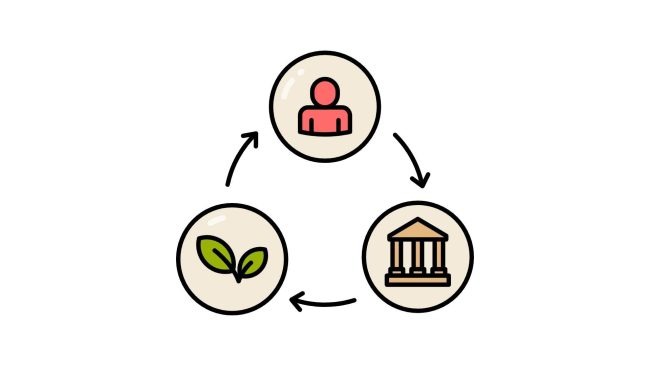 Environmental
The environmental aspect of the ESG principles looks at the way that the company interacts with its environment. Among other things it assesses;
The way the business uses energy

The waste it produces

The pollution it causes

The conservation of natural resources

The way it treats animals

Carbon emission reduction

Deforestation
Social
The social element of ESG examines the way that a business treats people both inside and outside the organisation. It will look at;
The company's record on diversity and inclusion

Data hygiene and security

Its record on human rights

The healthcare approach

The way it interacts with stakeholders

The contribution it (and its staff) makes to society
Governance
When we come to governance, the ESG standards are really looking at the way the company is run and how it seeks to influence and affect decision-makers. It looks at;
Shareholders' rights 

Transparency

The board of directors and its makeup (including diversity)

Executive compensation

Accurate and transparent accounting methods

Anti-bribery practices

Political contributions and lobbying

Venture partner compensation
How Environmental, Social, and Corporate Governance (ESG) Criteria Work
The main aim of the ESG criteria is to give investors and buyers a framework with which to assess the operations of a particular business.
Acting almost like a shopping list, the criteria prompts the investor to question the way the company works and how it interacts with the environment, society as a whole and its stakeholders in particular.
Companies that are offering socially responsible investment products will confirm that they comply with the criteria giving retail investors the confidence that the firm will only invest in businesses that are in sync with their own values.
It's clear that there is a market for this kind of approach as according to Investopedia, ethical investing increased by a remarkable 60% in 2020.
Over 1 million professionals worldwide are using Rydoo.
Pros and Cons of ESG
This all sounds very laudable and there can't be many people who would want businesses to destroy the environment, prejudice the rights of investors and be a malign influence on society.
So with all this in mind what are the pros and cons of ESG?
The pros of ESG
ESG as a concept is a good start for anyone who wants to invest in an ethically sound manner. It provides a set of guidelines that institutional investors can sign up to, thus giving their retail investors the opportunity to take part without worrying about who they are indirectly supporting.
Additionally, the ESG criteria also signal risk factors that can lead to a drop in investment value. A good example of this would be investing in an oil company that has poor environmental practices, causes a huge spill and then has to spend millions of dollars to clean up.
The ESG criteria also help businesses assess their supply chain and ensure that it matches their values. We have all seen the bad press that Apple and Nike received when the poor employment practices of their supply chain were brought to light.
In years past, ethical investors have had to accept something of a trade-off between value and values. Ethically sound investments would often perform worse than the market in general. The good news is that the trade-off seems to have lessened or even reversed and in one report, it was shown that companies following a sustainable path actually outperformed those that didn't.
And of course, the increased interest in protecting the environment and treating people fairly means that ESG compliant businesses can often have an advantage in the consumer market.
The cons of ESG
The most obvious argument against ESG is that it is an extra layer of bureaucracy that businesses can well do without.
The other thing to note is that life rarely falls into neat little boxes and we all have to make compromises. We may all want to protect the environment but we also need to drive to work or to the store and in the same way sometimes, businesses need to do things that they may prefer not to.
This means that a company may be incredible in most criteria of ESG but fall down on one or two aspects. Does this mean that they don't deserve support?
Restricting investments and purchases to ESG compliant companies may also reduce your choice dramatically and this can affect performance compared to someone who can buy from the whole market.
ESG is worth investigating
If you are an investor, or if you want to make sure your supply chain is as environmentally friendly as can be, then using the criteria of ESG may well help.
They give an excellent framework with which to assess your options and help to refine the decision-making process.
And if you are providing your services to consumers, ESG can help to make sure you are able to provide products that will satisfy the need for ethically conscious purchases.
It may not be perfect in all aspects, but ESG is an excellent way to develop a socially responsible outlook on business.