When selecting a new piece of software, consider the implementation process and how you can ensure that everything goes as planned.
There are several basic actions that will offer you the best chance of success, and we'd like to share them with you here. We'll also discuss some of the things we do at Rydoo to ensure that the implementation process runs well.
Decide (and agree) what you want to achieve.
This may sound obvious but actually, we find that when projects go awry it is often because the different people involved have different expectations.
It's important to decide exactly what is in scope and just as important to decide what won't be covered. If you don't know what you want to achieve then you won't know whether you have succeeded or not.
Make sure also that you give your project a timeline and a budget, both in terms of money and resources allocated so that you can keep a check on how much you are spending and how many hours people have to dedicate to the implementation process.
When you have your scope, then you can move on to forming your team and planning your project.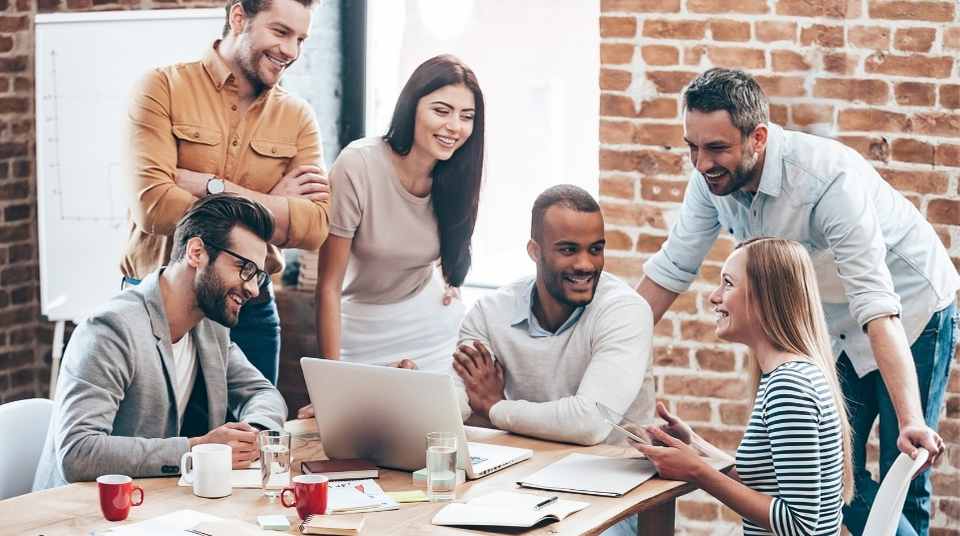 Form your team
Once you have decided on what you want to achieve you need to bring in some resources to get it delivered. Look for a variety of seniority levels and different talents and make sure you appoint a project manager with experience who can guide the less practiced members of the team.
Try wherever possible to bring in people from all of the relevant departments who will be affected by the implementation process and make sure you have a way of gathering and assessing feedback as you go along.
If you find that you have skills gaps then it is always worth recruiting experienced temporary staff who can bolster your resources.
Plan your project
A great plan is the cornerstone of a great project. It is often a good idea to start at your target 'go-live' date and work backwards, adding in the major milestones and asking your team to fill in all of the smaller tasks they will need to complete along the way. 
Having a timeline with defined objectives and 'to do' dates will greatly increase accountability. Don't worry if you miss the odd task or two, you can always add things in later but the important thing as that the project as a whole has a defined plan for the team to work to.
Over 1 million professionals worldwide are using Rydoo.
Communicate
We can't emphasise enough how important communication is to a successful project.
For a start it is important to gain the buy-in of the wider business but also you may well find that once the project is announced people come up with great ideas to make it even better.
What you don't want is for people to feel that they have been left out, ignored and had a new system pressed upon them because that is a sure way to foster feelings of resentment and cause push-back.
Make sure you keep the communication up all throughout the project and keep people apprised of the latest developments.
Test test test (and then test again)
Nothing destroys the credibility of your new system faster than launching and having glitches.
It can be really difficult to come back from a problematic launch and the way around this is to have thorough User Acceptance Testing (UAT).
UAT helps in many ways; for example it…
tests the whole system to make sure it works

shows up any glitches that need fixing

points out any areas that could be improved, especially with User Experience (UX)

gathers feedback from testers as to improvements

gives you a chance to see how people use the system and if there are any problems with the UX

shows you where you need to concentrate your training output.
The benefit of doing this in a training and testing environment is that there is no pressure to succeed.
We'd suggest that you have several rounds of testing, just to make sure your fixes have worked as you expected culminating in a final acceptance test.
Once your testing is showing positive results then you are ready to go live safe in the knowledge that you have software that is as close to perfect as it is possible to be.
Over 1 million professionals worldwide are using Rydoo.
Get your training resources in place
It's all very well having a wonderful new system but if people don't know how to use it then it is largely worthless!
Decide how you are going to deliver training for end-users and produce your training resources to suit. You may want a simple manual or perhaps you would like to record videos. Are you going to have remote training or will you bring people together for a classroom session?
This will likely be very different depending upon your organization and we'd say that you shouldn't worry about what other people do, just do what suits your company best.
The important thing is that your users have the training they need in a way that they feel most comfortable consuming it.
Tweak, document and lessons-learned
Because you have done so much testing, by the time your software goes live you will have ironed out any major bugs but there may be some tweaking necessary.
This is because you'll often find that users start to want different things from the system or they may have thought of extra functionality that would be useful once they have used the software in a real-life setting.
Be prepared for a round of tweaks to make sure that your final software implementation process is as good as it can possibly be.
Documentation is a step that often gets left out but it is one of the most valuable parts of a great implementation process and is carried out after your new system has gone live. Documenting your system means that if you want to develop it later you will have all the information you need and should you have any problems in the future your answer will be sitting in the project documentation.
Carrying out a lessons-learned exercise shows up any weaknesses in your project approach and gives you valuable lessons for future project teams to draw upon.
The Rydoo Implementation Process
So far the steps have concentrated on what you as a customer will need to do to get your software up and running but at the same time as you are carrying out your tasks, our project managers also have a plan to work to.
For each implementation process, we need to deliver the different elements of our system at various points within the project. Here at Rydoo, we've developed an implementation process for our project managers that we have used with thousands of customers and so we know that it really works.
In fact, it works so well that many of our customers are able to get their system fully implemented and online within 100 days. Our software implementation process is designed to work as a partnership with our customers, bringing together the software expertise of Rydoo and the business knowledge of the customer to deliver on time and on budget.
You'll find that the steps above help your company to develop your project in concert with our internal implementation process and that the two running side-by-side deliver far more than just the sum of the parts.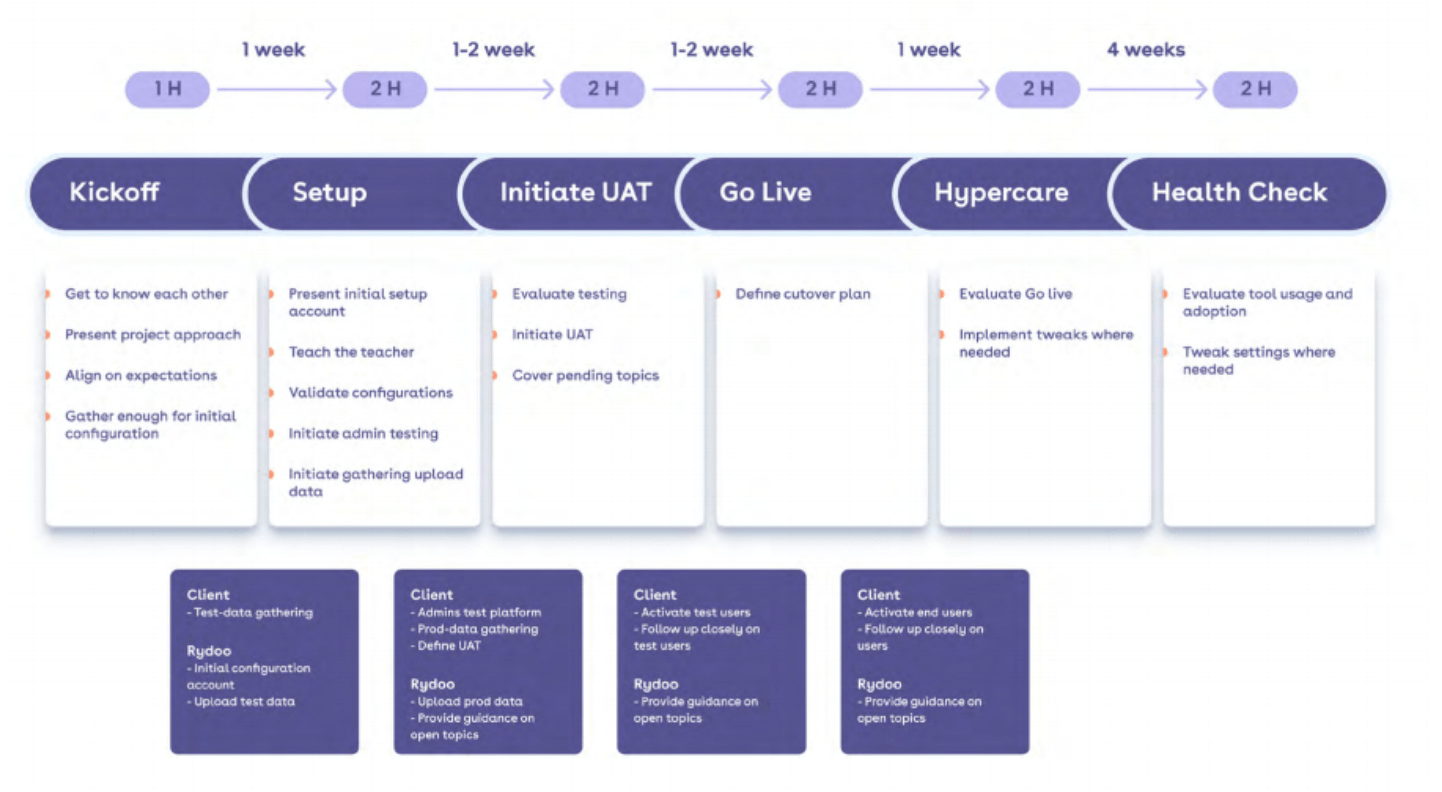 As you can see the word 'test' appears many times and it is this proactive implementation process approach that gives our customers a great deal of confidence.
By structuring software implementation process in this way you'll find that come 'go-live day' you'll have a new system that works flawlessly.
Having a good plan leads to a good project