We have always known that Rydoo saves people time, after all, that's why we developed it!
But knowing and proving are two different things and so we were incredibly pleased to see our belief backed up in our latest report; "The State of Expense Management 2022".
Every year we commission independent survey experts to gather data from CFOs and senior finance professionals about digitisation in finance and the evolution of finance departments.
This year's report highlighted some very interesting statistics, not least the fact that most companies that have implemented Rydoo have found a real and lasting reduction in the time taken to process their claims.
Using a expense management tool saves time
Among the findings from our survey was the impressive statistic that 75% of the companies that have implemented a digital expense management tool, cited a time saving of at least 5-10 hours a week!
That's 5 -10 hours spent on something much more valuable- and that's not a productivity drainer!
In short, you'll save the company's costs while allowing trained and experienced people to carry out value-add activities.
This changing face of the finance team is also borne out by our survey because we found that 77% of respondents said they had welcomed people with new skill sets to fulfill changing roles.
How does digital expense management save time?
So we know that people are experiencing real-life time savings but how does digitisation achieve this?
Well firstly, the reduction in handling paper receipts is a big benefit. Our data shows that the vast majority of digitised companies no longer keep paper receipts and bills, preferring to use digital copies instead.
If nothing else this saves time managing the filing and then finding copies at a later date.
This removal of manual processes can't be over-estimated. Having people doing things that are adding real value to the business is so much more preferable than simply cutting and pasting numbers or manually keying information into journals or payment systems.
The removal of manual processing saves time in doing the job initially, and it also saves time spotting the errors that are introduced as a result.
We have also seen a drop year-on-year in the number of violations.
This year only 0.8% of total expenses were violations, down from 1.1% in our 2019-20 survey. This suggests that as digitised expense management becomes the norm people are able to understand the rules better.
There's another important point here and that is that expense violations take a lot of time to sort out, so the fewer you have , the more time you save.
Checking expenses against policy manually is a very time-consuming job. With a cutting-edge system like Rydoo, the vast majority of expenses can be work flowed so that if they are in policy, they get approved.
Faster reimbursements (33%) is cited as a reason for incorporating a digitised expense-management system into the finance team and we think that this highlights one of the best parts of a fully digitised system.
So far we have concentrated on the time savings for the finance department. When staff are able to make claims faster, they also get reimbursed much faster as a result.
This can be a significant boost for staff morale as it means that people aren't out of pocket for as long as when expenses are done digitally.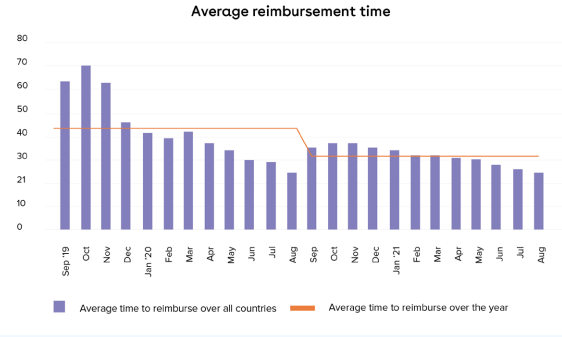 Digitising your systems doesn't have to be a chore
We have seen that there are lots of benefits to digitisation and the time savings you experience is only one aspect of these.
But one of the things that put people off implementing finance digitisation is that it seems like a massive chore.
We're here to tell you that it really doesn't have to be.
The best advice is to chunk it up and do the quicker and simpler processes first.
Expense management can be hugely time-consuming but putting in a new system can transform the situation.
Typically, Rydoo is up and running within 100 days which means that you can use this as a 'low-hanging fruit' when you start your digitisation journey.
If you want to find out how to make the break and start saving time and effort with your expenses management then get in touch now and we'll arrange a free demo so you can see for yourself.
About our report -The State of Expense Management 2022
When we initially started commissioning our annual The State of Expense Management reports in 2020, little did we (or anyone else) know that the world was due for 3 tumultuous years with the effects of COVID.
But the timing was actually very useful as it gave us a clear sight of what was happening as the world came to terms with a global pandemic.
This year we asked survey experts Firefly in collaboration with 4media group to run our survey to find out what has changed in expense management over the last twelve months.
Speaking with over 400 senior finance professionals, CFOs, and executives at companies with more than 1,000 employees. The respondents were all located in the UK, France, and DACH region (Germany, Austria, and Switzerland).
We also added in data from Rydoo users across France, Germany, Austria, Switzerland, and the UK to increase the depth and breadth of information available.
The most important international expense report by and for Heads of Finance.
Download the "State of Expense Management 2022" now.