Do you have employees on a Finnish payroll? We have an integration with the local incomes register (tulorekisteri) that saves you time, gives you control, and helps you stay compliant when declaring reimbursed expenses in Finland.
As of 2019, all companies with a legal entity in Finland must declare their employees' income within 5 days of payment instead of annually. Since mileages and per diems reimbursements are also considered an income type, you must also declare them to the Incomes register (Tulorekisteri) digital portal.
Depending on the number of employees you have and how long it takes for an expense to be reimbursed in your company, this is a time-consuming task. For example, this is how some of our clients have adapted to the changes:
built a semi-automated but complex solution
paid a third party to take over this task
did it manually
It is clear that all three options are time-consuming, expensive, and make it hard to stay in control. So we built a direct integration that automatically sends all reimbursed expenses from Rydoo to the Incomes register.
Find out more about our product.
Rydoo's Incomes Register add-on
Our Incomes register add-on connects your Rydoo account directly with the Finnish Incomes Register (tulorekisteri) portal . It has been developed in partnership with the Finnish company Solita, and supports the latest Vero API interface (2021).
Benefits
Have your Rydoo expense management account directly connected with the Incomes Register portal.
Have an overview of all the expenses declared.
Be notified when a specific expense couldn't be declared.
Avoid maintenance or manual tasks.
Rydoo's Incomes register add-on in action
We have defined a simple process that allows us to declare your reimbursed expenses directly to the Incomes Register on a daily basis. Take a look at the image below. You and your finance teams will also be notified if a specific expense couldn't be declared, and you'll have access to all the expenses declared to the Incomes Register portal.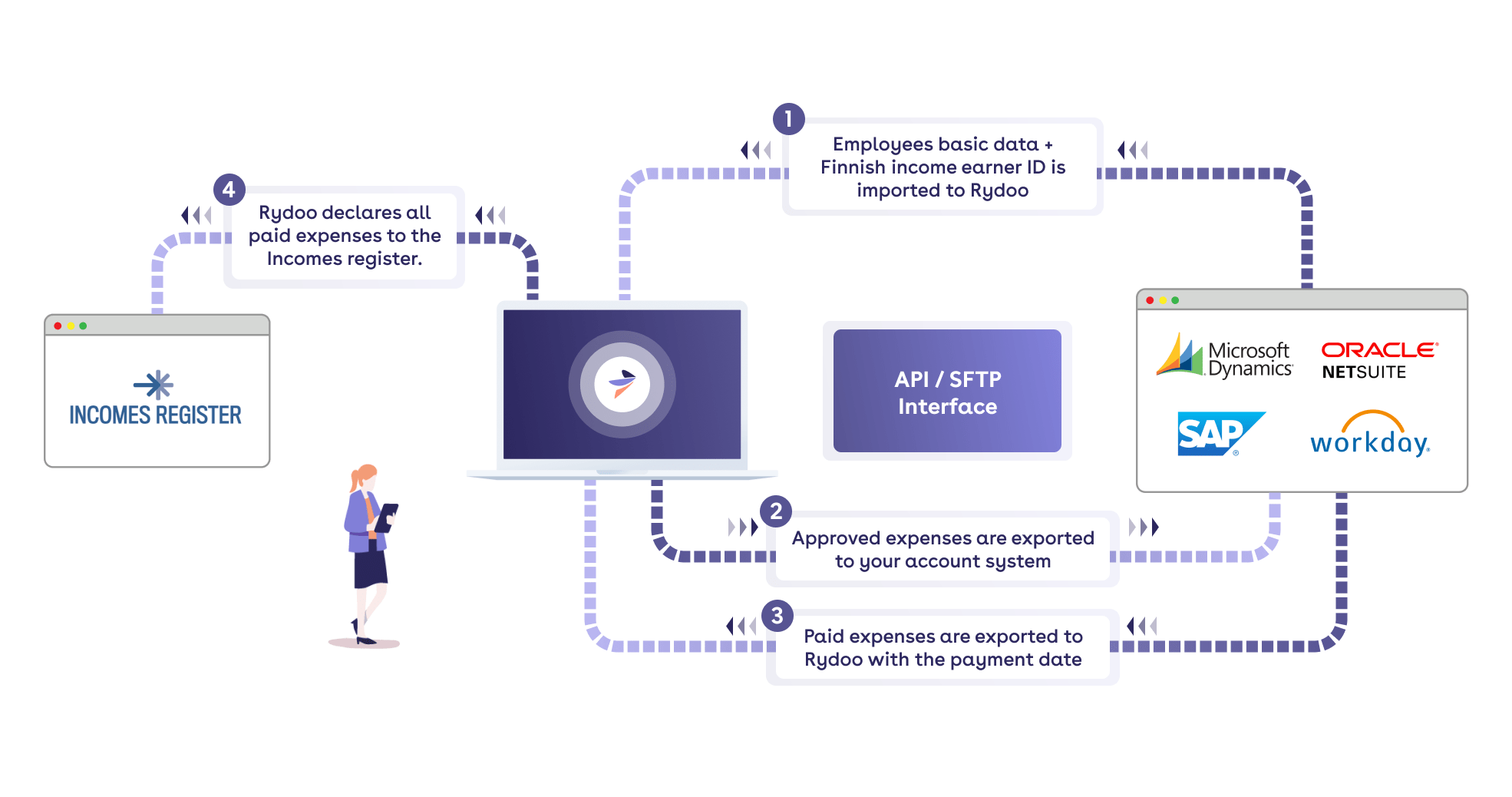 This new integration goes in line with our focus on automation and compliance, giving you and your finance teams control when managing your employees' expenses. Rydoo helps you fulfill Finland's requirements: our solution is in Finnish, we have expertise on how per diems and mileages should be set up for your employees in Finland, and now we offer you a direct integration with Vero's Incomes register.
If you are looking for an expense solution that meets your country's compliance, let's have a talk.