What if…reinventing a whole business process and implementing it for your 50 co-workers could become as easy as putting on a new pair of trousers? Alex Prentice, Financial Administrator of UK-based clinical trial company MRN, claims Rydoo has set a new standard in implementation time.
How MRN got off to a flying start with Rydoo
Making significant changes in the way your company works usually means dealing with lots of overhead.
Because we want you to make your start with Rydoo hassle-free, we've developed the Welcome Pack — an all-in-one package that makes implementing Rydoo a breeze. By combining a set of accessible onboarding materials with priority handling of any questions by our stellar customer support team, we're turning your onboarding into a smooth experience.
MRN (or in full: the Medical Research Network), which recently started using Rydoo in its UK head office, was one of the companies that took advantage of this new pack. We talked to Alex Prentice, Financial Administrator for the company, about how they experienced the switch.
Getting started
"Before we switched to Rydoo, our employees were using Excel spreadsheets," Alex explains, "and they had to uncrumple their receipts before the end of the month. It could take us two to three days to process all of them. Now we can just snap a picture, upload the receipt and export everything from Rydoo in a matter of minutes." It's clear that switching to Rydoo has been a boon for the company, but how did they experience the process of setting up the product?
"I'd compare it to a sort of social media platform, it's really self-explanatory. You can just sign up and go out and play with it", Alex says, indicating they liked our design-led focus on making an easy-to-use product. When asked about the onboarding documents in the Welcome Pack, we got a surprising answer — the team didn't spend much time with them at all. "Actually we were mostly able to onboard ourselves, thanks to the product's user-friendly interface. It was all quite straightforward, which is a testament to the system itself," Alex explains. "I set up the trial as if it were a live environment, including configuring all users and settings — and then we just went live."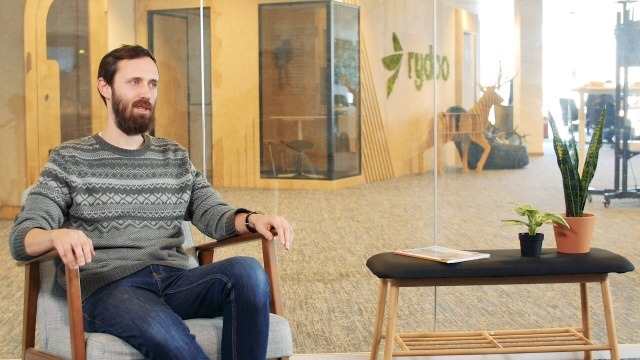 I'd compare Rydoo to a sort of social media platform, it's really self-explanatory. You can just sign up and go out and play with it.
Alex Prentice
Finance Administrator
Onboarding the team
Because the company was making a change that impacted a large part of its employees, it decided to organize group trainings tailored to the needs of different teams. By picking out the most active expense claimers, Alex was able to effectively share the knowledge with the people it mattered to the most. He explains: "I came up with a 45-minute session where I shared my screen, showed them all functionalities they needed to see and then did the same for the mobile version."
You can't expect that everyone immediately understands how everything works, of course — and that's where the priority handling of all customer support requests came in. "We loved that we could ask questions over live chat and get a quick response, no matter if its a technical or non-technical issue," Alex says. Competitors like Concur require you to go through an account manager, making it hard to communicate the question correctly. Alex likes the Rydoo approach better: "It's easier to just talk to the right person straight away."
Everybody happy?
We were happy to hear that implementing Rydoo had the desired effect on Medical Research Network: it made everyone's lives easier. "It saves our employees time and let's them focus on their job," Alex says. "It's all been really positive, and people have been coming back singing the praises of Rydoo."
With their head office fully onboarded, the team is now planning to roll out the platform to its other offices in Madrid and Chicago, too — and we're sure onboarding those teams will be just as easy.
Is your business in need of a better expense solution? Experience why Rydoo is trusted by industry-leading companies like Deloitte, Jaguar, Miele and many more — sign up for our free trial today and try it out like Alex.