Total Tool Supply's CFO reinvents his company's expense management process
Total Tool Supply, Inc., is a family-owned company that provides mechanical tools, services, and solutions to construction and industrial customs across North America. With 14 locations and a team of 235 employees within the United States, Paul Smejkal, Total Tool Supply's CFO, decided that a more efficient expense management process was needed not just for his department but also for all the salespeople constantly on the road visiting clients.

Challenge
Expense reporting was a manual

Excel-based process, very time-consuming for the

Accounts Payable team.

Employees would have to collect all receipts and send them

 in an envelope.

Receipts would get lost and expenses were not submitted in a timely fashion.
Very time-consuming process for the Accounts Payable team which had to manually enter all the expenses in an Excel sheet.
Why Rydoo?
Paul

found it to be

much easier to use than other tools.

The

analytics functionality for financial reporting.
The app allows users to do their expenses not just in real-time but also quickly and accurately.
Results
Sales managers now can track

their employees' spendings on various activities. 

The

analytics functionality

has increased visibility and awareness of employees' expenses.
The Finance team managed to

eliminate one manual process.

Users used to spend 4 to 5 hours/month on expense reports and now they spend less than an hour.

Paul now can

re-adjust the expense policy.

For the

Accounts Payable team

it's faster now as they don't have to manually enter expenses in an Excel sheet.  

Business travelers are

being reimbursed every week

and not on a monthly basis anymore.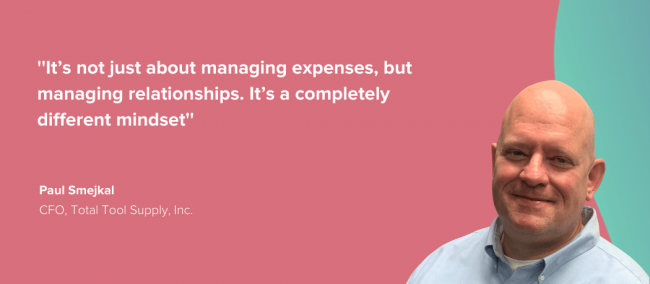 Take T&E management easy.
Automate your expense management process.