Most hotels aren't bad, although they might be a little boring. Almost all of them have the same features: a comfortable bed, a modest bathroom, a TV on the wall, and a bottle of water on the nightstand. Breakfast is delivered with a smile if you're lucky, and there's a nice bar to unwind after a long day of work.
The problem is not that hotels are bad, but just that they often lack character. It's an impersonal experience, highlighted by crowded check-in desks, boring restaurants, and cookie-cutter rooms. After years of being bound to the confines of the traditional hospitality industry, it's no wonder a new option has been able to kickstart a big shift in business travel.
Booking Airbnb for business travel is becoming more and more common every day. Since its launch in 2008, Airbnb has quickly become a force to be reckoned with. By creating a marketplace for letting people rent out their own private spaces, there suddenly was a viable alternative to staying in a hotel. Consumers were all over it — not just because it offered a cheaper way to stay in a city, but also because the experience itself was a lot more fun and authentic.
With an estimated 100 million nights booked per year, today Airbnb is a global hospitality juggernaut — and its popularity hasn't just been limited to consumers. Increasingly, business travellers are also seeing the worth of using Airbnb for their lodging — and in this article, we're taking a closer look at the reasons why.
The rise of the independent business traveller
As we've shown in our last article, Do you have a low attachment rate to your corporate booking tool?, lots of companies are ditching central business travel management in favour of having employees book their own trips. This is great for companies because they save money and time on travel management, and it's great for workers because they can pick and choose every part of their business trip. But when you let people decide some might not want to stay in a hotel — booking Airbnb for business travel seems like a perfect option, especially when employees already book Airbnbs for their private trips.
The benefits of booking a home instead of a hotel
It's easy to see that staying in an Airbnb is a much more authentic experience — it's someone's house, after all! That's not the only benefit, however — there are many more reasons why this kind of space can be better than a hotel. For example, you could bring over some colleagues for a quick brainstorm or spend a day working from the apartment — even during times when the local office, coffee shops, or other workspaces are closed. Afterwards, why not enjoy cooking a nice meal together? It's sure to be a boon for team building.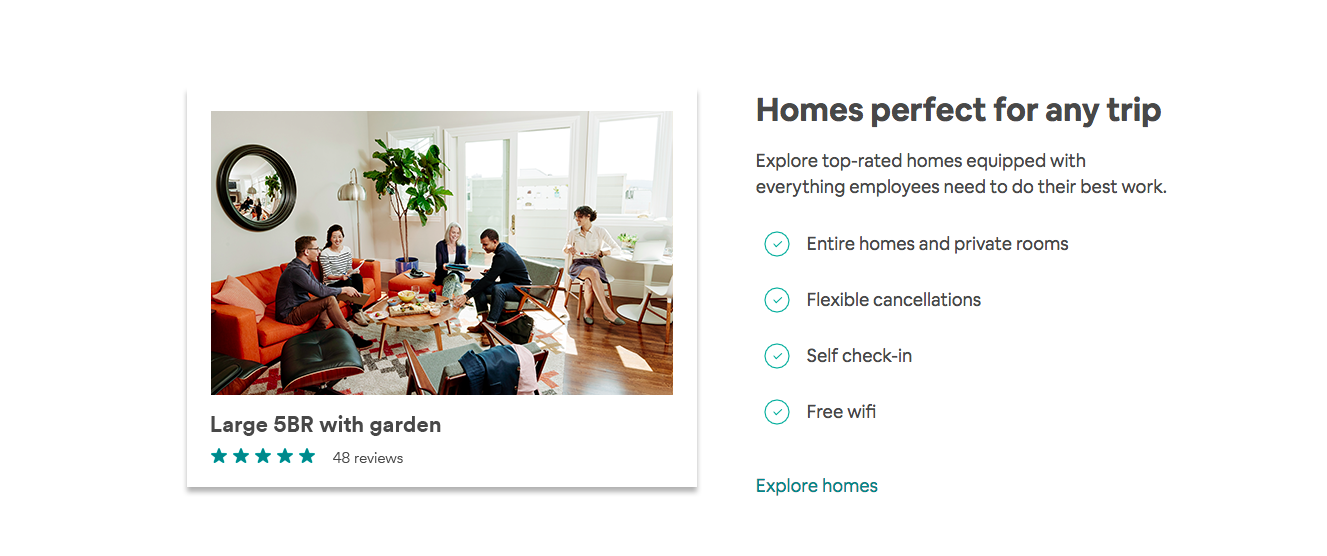 Financial incentive
On Airbnb you'll often find larger, more comfortable spaces at a lower price than what you would get in a hotel — even if you're booking an entire apartment. This difference becomes even more striking if you're travelling with a large group — where you normally would have to book separate rooms for everyone, you can now book a large apartment with multiple rooms. Because you're not paying for the added luxuries of a hotel like 24/7 reception, on-demand room service, an in-house gym and more, Airbnbs are definitely the more financially sound option.
Turning business into bleisure
Not only are the places we stay during our travels changing, the way we schedule our trips is too. With more and more people finding out about the pleasures of bleisure travel, Airbnbs offer the perfect opportunity to relax before or after your business trip — with more space and a casual, homely environment it's possible to bring your family, for example. This makes it easy to take a couple of days off and enjoy the best things that the destination has to offer. As the boundaries of work and life get increasingly blurred, this counts as a nice perk for those who spend more days abroad than at home, giving them some much-needed time to unwind.
A bright future
After implementing a variety of business-related features over the years, the company eventually launched a sub-brand called Airbnb for work. It's been performing extremely well and is constantly being improved with new features that are specifically aimed at a professional audience, like selecting spaces that have desks, great wifi, flexible cancellations, and other things teams need to be productive. It's clear that the company has had a whiff of the massive business market and is now catering directly to them.
This also means that the amount of people booking Airbnb for business travel is only going to grow. With workers discovering the benefits of more laidback lodging and the world's biggest brand for booking them pushing its user base to try Airbnb for work.