Navigating through the ever-evolving world of Finance and FinTech can feel like walking in circles inside a dark labyrinth. The market is always shifting, new trends and theories come along, and it's easy to get lost when everything is happening everywhere, all at once. It was amidst a hectic situation, the 2009 economic world crisis, where these sort of shifts happened almost at a daily pace, that Sam Dogen, who used to work in the banking industry, created his blog, Financial Samurai.
At the time, Sam felt that "the world was falling apart", so he thought it would be a good idea to start a blog so he could help himself and others understand all that was happening around them. Over 13 years later, Financial Samurai has led Sam to publish two best selling books — Buy This, Not That: How To Spend Your Way To Wealth And Freedom and How To Engineer Your Layoff: Make A Small Fortune By Saying Goodbye —, and start a podcast.
Sam's is one of the over 800 million blogs one can find online, according to WebTribunal. Every day, more than 6 million blog posts are published, and we're not even accounting for podcasts, video casts and other content formats scattered around the internet. In such a vast sea of choices, finding the right space to stay up to date on all of the latest news can be quite overwhelming, especially when you're trying to find good Finance blogs.
To help you navigate this vast digital world and help you cut down on research for the perfect publication, we've created a curated list of the 7 Finance blogs you should add to your bookmarks so you can stay on top of all the latest news and trends in the industry.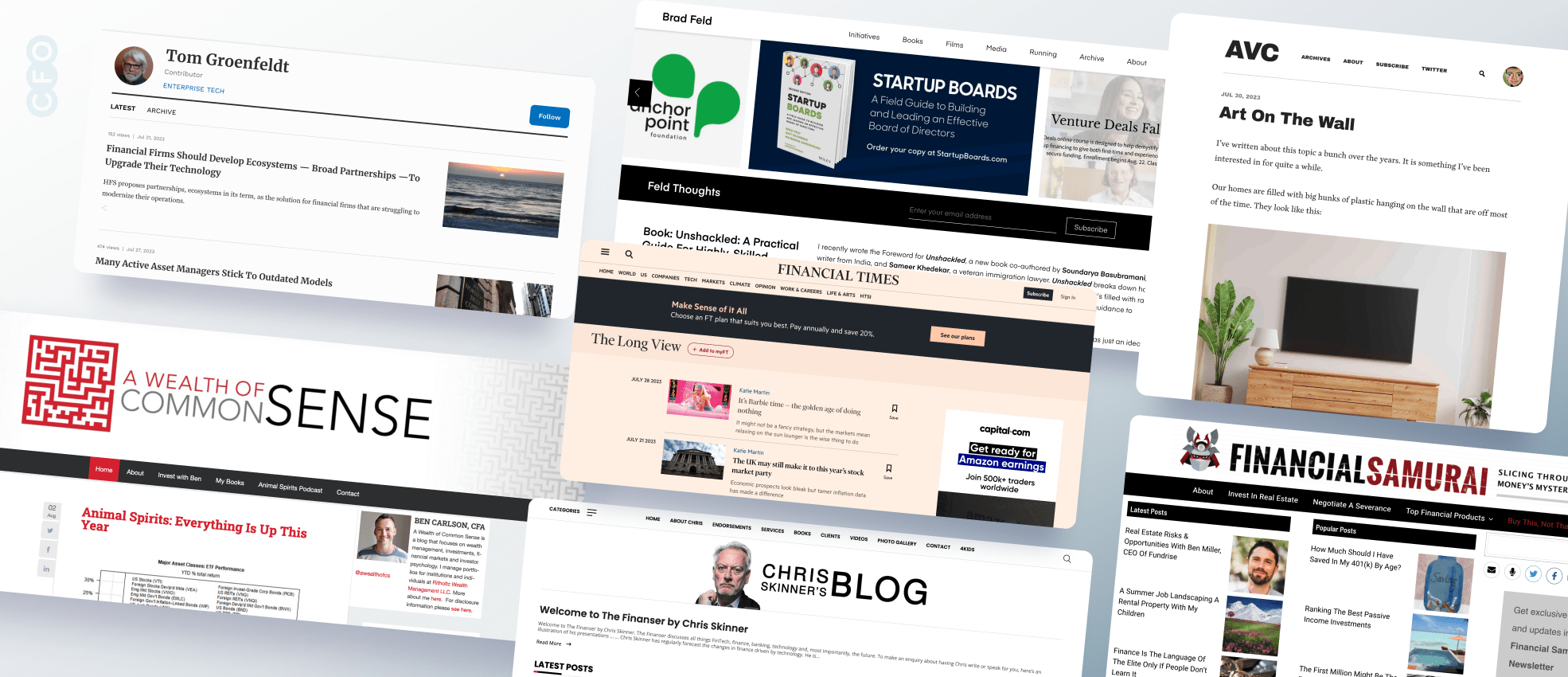 Financial Samurai
With 28 years of experience in the Finance industry, Sam Dogen's Financial Samurai dives into different topics surrounding the industry, including personal finance. In his articles, Dogen simplifies financial jargon to help others understand the complexities of this world, allowing them to work on their own finances.
The blog discusses investments as well, by providing some guidance on how and where to best invest and how to manage those assets moving forward. In a recent article, for instance, he shared his view on how buying and then selling stock after making enough money out of them is a good strategy. Aside from the blog, the Financial Samurai is also a podcast.
AVC - Musings of a VC in NYC
Fred Wilson was one of the venture capitalists that, back in 2015, wrote about the "40% Rule" for SAAS companies, a rule that the private equity industry still applies today. He started writing about multiple topics related to the finance and business world on AVC back in 2003, and says in his bio he expects to be doing it "as long as I can write".
In his articles, Wilson shares his views on the latest trends and topics surrounding the finance and investment world. He even ventures into tech at times, like in the article he published about how the New York Tech sector and how he believes, contrary to popular belief, that this will continue to be the city's growth engine.
The Long View
The Long View is a Financial Times column that features opinion articles about the state of global markets. Most articles are written by Katie Martin, FT's Markets Editor who's been covering topics around finance and economics for over 20 years.
Katie's articles feature her views and opinions on the latest news and trends of the markets, and one of her most recent pieces she uses the hype of Greta Gerwig's Barbie movie to refer to how investors now have an opportunity to relax, as Bonds Are Really Back In Earnest (Barbie). Check out the article to learn more about this.
The Finanser
Chris Skinner is an independent commentator on the financial markets and fintech through his blog and author of the bestselling book Digital Bank. He's also been an advisor to the White House and has made countless presentations, including a TED Talk in 2019.
On The Finanser, Skinner writes about tech innovations and how it can benefit the finance world. He also covers some major topics on the finance world and gives his unique view on the matter. Some of his most recent articles discuss the power of AI in the finance world. One of the latest covers if and how AI can be a business intermediary and how people fit in the transaction.
A Wealth of Common Sense
A Wealth of Common Sense, written by Director of Institutional Asset Management Ben Carlson aims to help explain "the complexities of the various aspects of finance in a way that everyone could understand them".
In his updates, Carlson covers topics that range from wealth management to investments, financial markets and even investor psychology. In one of his latest articles, he gives his view on why one year returns shouldn't matter for investors and how they should be looking at long-term returns instead.
Feld Thoughts by Brad Feld
Like Fred Wilson, Brad Feld, who's an early-stage investor and entrepreneur, also wrote about the Rule of 40 in 2015. He helped found Foundry, an investment capital firm, back in 2007, and writes about venture capital investing and entrepreneurship.
One of his latest posts marked the 19th anniversary of his blog where he covers multiple topics around the venture capital, entrepreneurship and investment world. You'll often find articles reviewing Finance books on his blog, like this one from October 2022, where he talks about Andy Dunn's book Burn Rate: Launching a Startup and Losing My Mind, and it's importance on the discussion of mental health in the Finance world.
Tom Groenfeldt
A freelance writer and fintech expert, Groenfeldt has been writing for Forbes since 2011. He's also a freelance photographer and writes about art for the Door County Pulse, in 2018 appeared on Jay Palter's list of fintech influencers to follow.
At Forbes, Tom brings a knowledgeable and insightful perspective to topics related to Finance and technology. One of his latest opinion articles discusses why it is important for Financial firms to develop ecosystems and establish partnerships to upgrade their technology and grow their businesses.
Now that your bookmarks tab is all set, you're ready to start diving into the world of finance and stay up to date on all the latest news and trends. Happy reading!