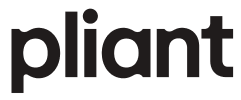 Pliant
The digital business credit card solution for maximum flexibility & savings.
About Pliant
Pliant offers virtual and physical credit cards with high limits as well as fully digital card management and real-time reporting via Pliant dashboard and app, while proving its customers uncapped cashback on credit card transactions (up to 1%) and exchange rates well below market levels. 
Key features
Real physical and virtual credit cards with high limits and premium card benefits

Card issuing and limit changes per mouse click

Seamless integration with adjacent financial and accounting software

Complete visibility and control over payments across your entire organisation
How it works
Pliant's receipt forwarding feature allows to seamlessly transfer receipts from the Pliants app to Rydoo's Email inbox. To do this, just connect the Rydoo inbox to the Pliant app, thus allowing each and every uploaded receipt to be automatically forwarded to Rydoo.