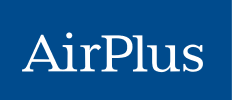 AirPlus
Gain more visibility into your company's travel spending by integrating your corporate AirPlus cards.
About AirPlus
AirPlus International is a global handler of business travel payments covering corporate travel management.
Key features
Automatic reconciliation of travel expenses with trip expenses: Thanks to our integration, admins easily assign AirPlus corporate cards in Rydoo. Transactions then flow directly into employee accounts, merging automatically with corresponding receipts and booking confirmations.
Full visibility and control over travel spend.
How it works
After requesting the Electronic Data Interchange (EDI) connection to your bank, and after approval, you can easily add the employee's card on their accounts. Once a receipt has been uploaded, Rydoo will look for a match to the corresponding the AirPlus feed. If a match is confirmed, a credit card icon will appear at your expense.