FM Group recently released a survey about climate change and all of the risks that come with it for organizations. Only 2 out of the 10 (18%) CFOs interviewed state that their companies have significant control over the impacts of natural disasters in their business. The numbers don't come as a surprise, but they bring an alarming situation to light: Companies are not prepared to deal with the consequences of climate change.
Poor preparation for the big players
Another point that caught our attention is that the 250+ CFOs and CEOs interviewed for the research all run companies with revenues of 1 billion+ USD. We're talking about successful enterprises spread across industries in Europe, North America and the Asia Pacific.  
Big Impact 
When something goes wrong in a company with 10 digits revenue, the impact is 10 times bigger. Think for a second about the number of people they employ directly. Now think about the number of jobs they create outsourcing labour. Not to mention their potential stock market shares and providers. If large companies were to suffer dramatically from climate risk, the wider economy would be impacted negatively as a result. 
One trillion dollars. This is the possible financial damage that the world's largest companies could face in total due to climate risk, as reported by the British organisation CDP Global in 2019. This represents $17 trillion in market capitalisation. 
This sounds crazy, right? Even if your company is part of the 18% that has control over climate risks, it still doesn't mean you're in the safe zone – not until this percentage grows bigger, because the bankruptcy of an enterprise can affect you more than you know. 
That's why addressing climate risk is an urgent need for large corporations. We summarize FM Global Research in the infographic below. Check out what CFOs have to say about climate change and why CFOs need to keep looking beyond the near future.
A good way to summarize this idea is with the concept of a company that has "a set of tools and infrastructure that allows an employee to do his job and organize his life", as defined so well by Microsoft.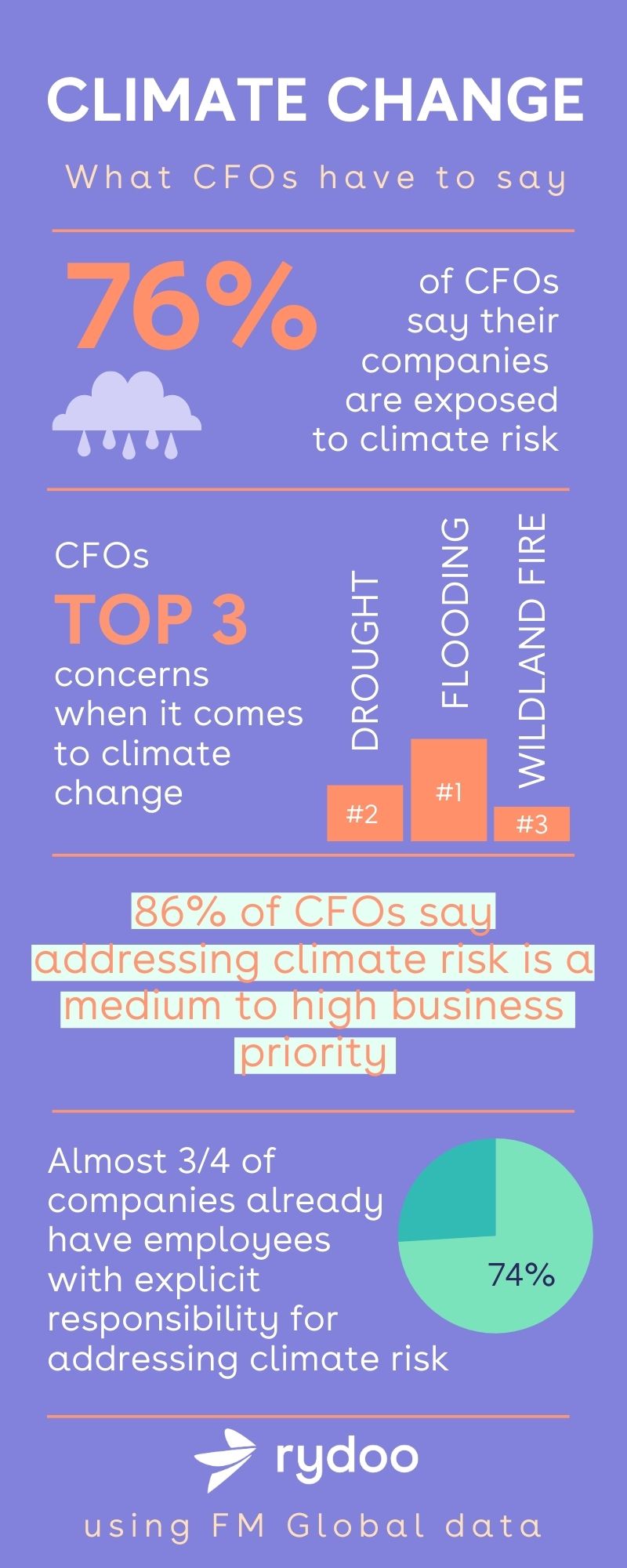 The CFO of 2020
In difficult times, employees often look up to management, expecting some clarity and a feeling of "don't worry, things are under control". CFOs are expected to provide some security and certainty in uncertain periods. Although they are seen as forecasters in the modern business world, no one expects them to forecast the unpredictable like natural disasters. However, understanding, masterminding and strengthening the company's infrastructure to face climate risks are all expected from the 2020 CFO. 
"

Good CFOs are not those who bring solutions to existing problems, but those who do not let the problem happen in the first place

".  
Finance executives should be able to understand the impact that floods or wildfires might have on their business and on their biggest clients' businesses. Sooner than we expect, global warming, for example, might start affecting the production and even quality of raw material, which will drastically affect the entire supply chain.
That's why CFOs should be able to forecast the possible consequences natural disasters might have on their business and start preparing to overcome this hypothetical situation – before these consequences become a reality.
How does modern workspaces lead to better business decisions?
Find out in our 101 with Microsoft
Thinking short and long term
There's a big fallacy in the world that leads people to think that the short term is not important. If you can switch today to eco-friendly energy sources and compensate for  CO2 emissions when on a flight, you should do it. 
However, it is not only about short term action. The long-term effects of climate risks should also be taken under consideration by CFOs and it should be a priority for the board to address them It is the only way to guarantee their organization's viability in the long term. 86% of CFOs say that preparing and fortifying their companies for climate risks is indeed one of their board's priorities at the moment. But the lack of preparation showed in the FM Global research is still alarming.
Technology can come in hand
Sustainability management tools can be integrated into companies' ERP (Enterprise Resource Planning) and give CFOs real-time data that will lead to a better decision-making process. The time is now. Covid-19 showed us the urgent need for digital transformations in companies. Now, while we're still struggling with this devastating pandemic, companies need to start preparing to avoid another difficult period like the one the world faced in 2020 and strengthen themselves to face climate risks. 
Climate is changing rapidly. Companies should be too.