Managing corporate expenses and keeping them under control for the entire firm is a difficult undertaking. Anyone who has ever denied another employee's expense claim or set a company expense policy understands why. Expense management may be annoying at times, from staff squabbles to late submissions, which result in erroneous reporting, to errors and, in some cases, fraud.
At the end of the day, all that really matters is that you are in full control of your company's T&E spending. At Rydoo, we believe decisions are better when they are backed by data. 
I'm going to walk you through 4 different ways you can use Rydoo Insights to have more control about what your company is spending on T&E.
Here we go.
Review your company expense policy
If you haven't got an expense policy in place yet, drafting one is really the first thing you'll need to consider. If you're a start-up, you most likely can get by without a formal expense policy. But once your company starts to grow beyond 50 employees (and direct social control begins to dwindle), having an effective expense policy is no longer a luxury, but a serious cost-saver.
Haven't got an expense policy yet? Download our template here.
In case your company has its own expense policy, start by assessing its effectiveness. Use Rydoo Insights to find out the following elements for example:
What is the average processing time of an expense claim?

Which users take the longest time to approve an expense?

Which % of expenses gets rejected?

Which are the top categories of expenses? Is that in line with company expectations?

Etc.
A good expense policy takes into account the actual behavior of your workforce account but sets the boundaries where needed. Understanding which expenses get rejected most for example will help you to re-evaluate your rules and/or explain them better to your co-workers. 
Some of our early users were very eager to shorten the reimbursement cycle for their employees, making it part of their official policy to reimburse correctly submitted expenses within a certain amount of time. This could be an interesting starting point for your corporate expense policy. The Trends section in Rydoo Insights gives an overview of the days needed in each of the stages of the reimbursement process. The monthly comparison makes it easier to track the progress towards a shorter reimbursement cycle.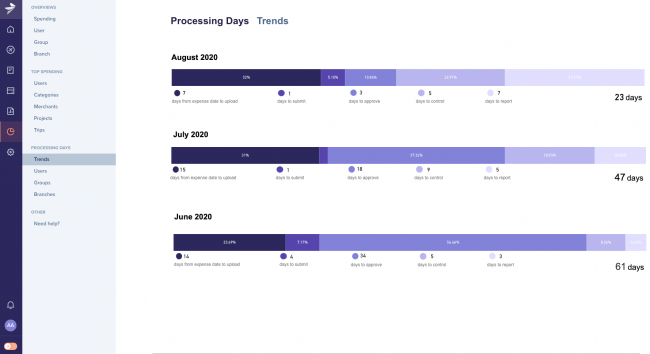 Find new opportunities to reduce costs
Another interesting area where Rydoo Insights can contribute is cost saving. Many companies are following very scrutinous policies when procuring goods or services needed for their business. However, many of these same companies seem to be completely in the dark when it comes to business expenses advanced by their employees.
With Rydoo Insights you'll be able to find the most popular merchants of your team, branch, or the whole company. Start leveraging this previously mostly invisible data, by renegotiating your corporate hotel or air travel rates, for example.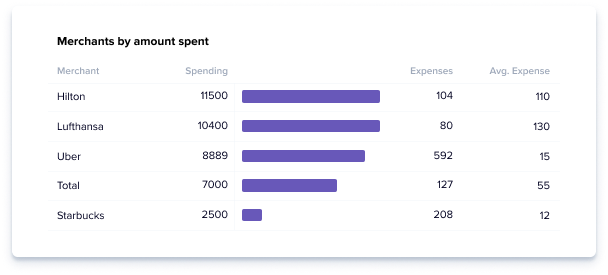 Want to see how it works?
Start forecasting future costs
Nothing is more frustrating than unexpected costs. While anyone working in Finance will acknowledge this statement, most of them have no visibility whatsoever about the cost of their employees' expense claims before they have actually been reported or reimbursed. Rydoo Insights enables you to see how many claims are actually in progress and which stage they are in. Based on these numbers, while taking into account historical trends, Rydoo Insights will give you a forecast of the total expected T&E spend per month. Start accounting for these expected future costs in advance, create more accurate budgets and adjust if a spending trend is going the wrong way.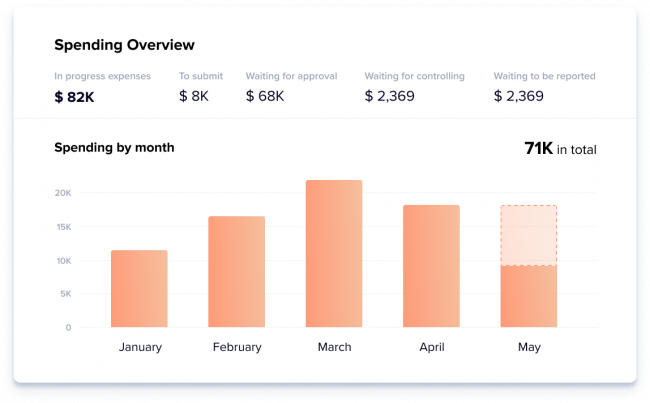 Measure the ROI of your decisions
Take a moment to determine your company's internal goals. Some companies will want to shorten the reimbursement cycle of expense claims, others will rather focus on saving costs on the Sales team's T&E spend, others will want to discover new partnership opportunities or detect mistakes or fraud more easily, etc.
Once you know what your company's primary goals are, start tracking them in Rydoo Insights. Analyze, decide, measure, and adjust if necessary.