This is the second of our 4 parts series on choosing and implementing an expense management tool.
The first part revealed the secret to reducing costs while increasing productivity. In this second part, we are going to elaborate on the different points to consider before choosing an expense management tool.
Choosing any corporate tool can be a tedious process. Risks need to be assessed and several factors taken into consideration.
Expense management is a little different.  
The risks for the company are limited – going back to an old excel system in case of failure can happen with no damage. Yet, it's extremely crucial to choose a tool that people will love to use as it's probably one of the few platforms that will impact every employee in your company.
Choosing the right expense management tool can also drastically reduce the time and money your business spends on expenses while increasing the productivity of your teams.
So, how do you choose the best software for your business?
The Rydoo team has helped thousands of companies streamline their expense management process; here's what we have learned:
Know your stakeholders
It can be tempting to jump straight in and start trialling new solutions, but if you do you'll be missing an important step – the requirements gathering process. So before you go any further, start by consulting people across your organisation and find out what is important to them.
You'll want to speak to your finance team, of course, but don't forget the everyday employees who'll be logging expenses and the managers who will be approving them. Your HR and IT teams might also have useful input on data, security and privacy.
A great example would be our client Irdeto, the project team conducted a survey on several employees to learn about their process when it comes to filing expenses, frustrations with the previous system and must have features for the new platform.
This pre-project step helped them create their list of requirements as well as increase the adoption rate of the new tool as they implemented a platform that answers the needs of the users.
Answer these questions
Once you've finished collecting information, you should have a complete picture of what you're trying to achieve. You should be able to answer questions such as:
Which features will really make an impact on my process?
Are we open to challenging our current processes?
What automated integrations should we consider?
These questions will guide you in establishing your list of mandatory features while also assessing your company's readiness for innovation or not. Also, by exploring IT requirements during the first phases, you are able to have a global view on requirements.
Plan For The Future
Technology is evolving and so should the tool you are going to use.
Professionals are declaring the slow death of on premise tools and we can't agree more.
It's the same with excel spreadsheets, if they were relevant 15 years ago, they can cost your company millions today.
The needs and requirements of companies evolve and to stay relevant to your customers and employees you need to be able to keep up with the evolution of technology. An aspect that on-premise tools don't allow.
If today being mobile is the most important feature for every business platform, tomorrow Artificial Intelligence will be a must and the day after, there will probably be no more physical devices.
Coping with all the evolutions can only be achieved by agile, innovative companies with the vision to continuously improve their solutions and offer better platforms to their clients.
This is why your ideal solution should be scalable enough to suit your business both now and in five years' time.
Challenge your processes
Expense management is only reviewed when companies need to reduce costs. While lowering your reimbursement cap can save you some money, it will also frustrate your employees.

There is a much simpler exercise that will help you lower your cost while increasing your productivity. Challenge your processes. Why do we work with expense reports? Why do we manually check expenses against policy? Is there a way to automate controls?
These questions help you look for other and better solutions.
Killing expense reports, for example, and working with expense notes can save your company a tremendous amount of time and money.
Users will be able to snap pictures of their receipts in real-time, giving the finance team an instant overview of the spendings and allowing them to anticipate cash flows movements.
Learn more about our receipt scanner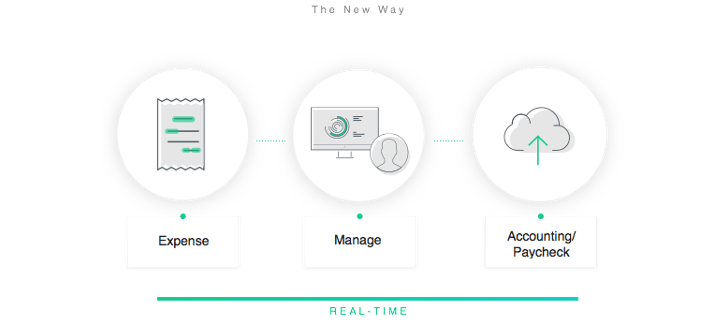 Also with the right expense management tool, your policies are fully integrated to the platform and personalised alerts are automatically created when the non-compliant expenses are entered – making controlling much easier for approvers and finance departments.
We hope these tips will help you kick start your journey into exploring new processes. Stay tuned for our next post on how to implement a new expense management tool.
Start innovating.