How can you rise above the crowd and convince your CFO to sign off on the investment in an automated expense management solution? The answer is quite simple: by understanding what your CFO's role is like today and what it will be like in the foreseeable future.
Spending on global business travel is expected to reach $1.6 trillion by 2020 according to the GBTA BTI™ Outlook – Annual Global Report & Forecast, a report released by the GBTA Foundation (education and research arm of GBTA and sponsored by Visa, Inc.). But while business travel budgets are expected to increase, your CFO is most likely eager to see costs go down.
And when it comes to controlling T&E costs, your CFO likely thinks the status quo—your existing outdated (manual) T&E process—is enough and you can just make do with your current system. But you know better. You live and breathe the expense process every day. You see the problems and how automation technology and advanced expense report analytics can change traveler behavior to control spend and improve compliance.
Unfortunately, you most likely won't be the only person from the only department asking the CFO for the technology they need to have, or they will fall behind. The good news for you though, is that many fail to come armed with the information they need to help their CFO prioritize requests and understand what will truly have the most impact on the business.
So, how can you rise above the crowd and convince your CFO to sign off on the investment in an automated expense management solution? The answer is quite simple: by understanding what your CFO's role is like today and what it will be like in the foreseeable future.
The key priorities for CFOs today
After years of defensive cash management, the role of the CFO has been shifting towards growth. This means that the CFO's role has become more strategic and that growth has become a strategic priority. However, faster growth also brings challenges along.
So while busy developing strategies to support this growth, CFOs must manage financial complexity and keep costs in check at the same time. No easy tasks. In order to execute these tasks well, CFOs are in desperate need of growth-minded tools to:
1.     Uncover opportunities to reduce costs;
2.     Enhance productivity and efficiency company-wide;
3.     Improve visibility into cash and spending;
4.     Support strategic decisions;
5.     Mitigate risk and compliance concerns.
Challenges to efficient, automated expense report processing
It seems like a no-brainer: automated expense reporting is more efficient and cost-effective than manual systems. We all know by now that the manual T&E Process is antiquated and is no longer sufficient for any self-respecting, modern, and professional organization.
Think of unclear policies that are coupled with paper receipts, paper expense reports, and let's not forget about the manual routing for approvals, audits, and payments. And there is quite a lot at stake when you think of the harm that is being done, such as:
·       High cost, inefficient processes;
·       Inflated travel charges;
·       Non-compliance to laws and regulations;
Setting the opportunity for fraud.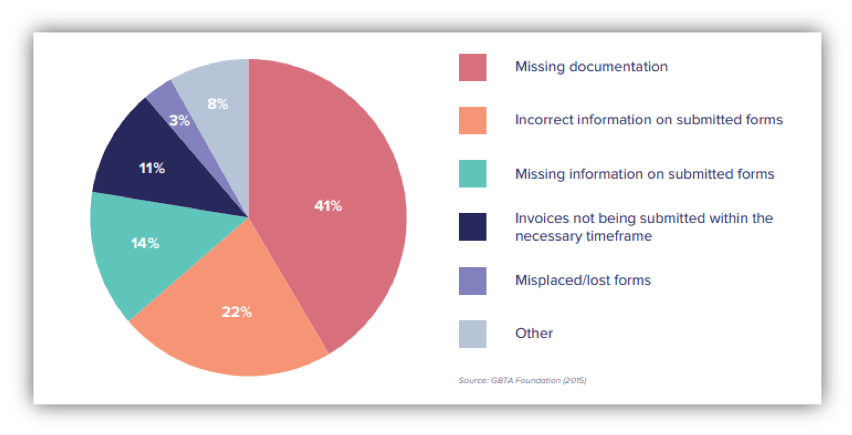 So why are there companies not automating then? Well, reasons may vary:
·       Lack of budget;
·       Lack of resources to research and implement a new system;
·       Larger businesses that are locked in to existing systems or workflows;
·       Fear of change.
But believe it or not, one of the biggest reasons why companies have not gone digital yet is because finance leaders do not know how to convince their CFO that automation is the right choice.
Building your CFO-centric business case for automation
If it happens to be you who is in the position of understanding the need to convince your CFO to take this route, it is necessary that you understand the changing role of your CFO to begin with. And if your company belongs to the group of businesses that have avoided automation, it is definitely time for you to step up your game and start advocating your Pro-Automation-Case.
Because what better way to uncover cost reduction opportunities than with automated T&E processes. However, it will also be up to you to prove to your CFO that these opportunities do exist. And that they will outweigh the (short-term) loss of time and money. Therefore, explaining the following five strategic benefits of automated T&E processes will help you lay the foundation to build your case and convince your CFO to 'go fully automated.
#1 Reduced expense processing costs
Of course, you will be asked to prove the reduction of expense processing costs. Therefore we say: make it visible. Describe your current T&E process from A-Z and point out where the bottlenecks are in this process. Also, add the hour's work and corresponding costs to the equation. That way the burden of a non-automated T&E process will be made visible and feasible.
Also emphasize that the industry average cost process one expense report [1], comes down to the following:
Ø  Manual process: $26.63
Ø  Semi-automated: $17.31
Ø  Fully automated: $6.85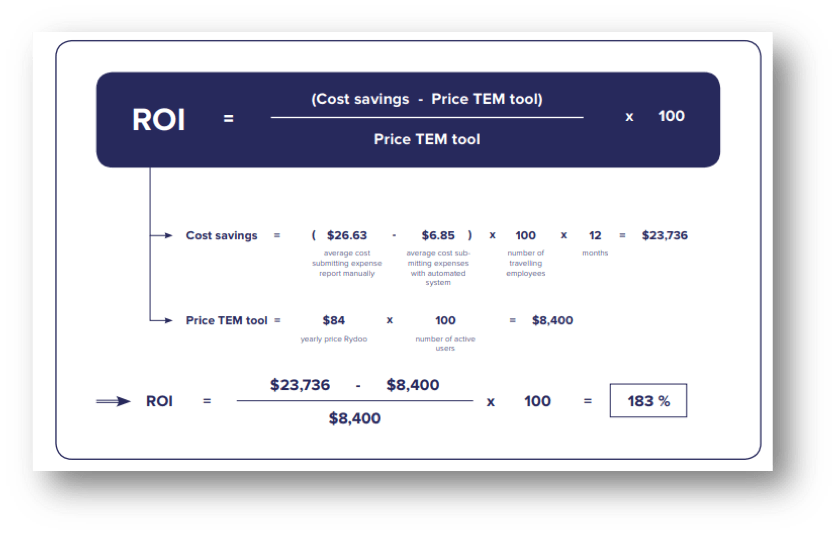 Another question you most likely will be asked is how automation will reduce costs. Because a huge change such as this will cost a lot of money and time; definitely in the eyes of the CFO.  Make sure that your answer includes the following long-term and permanent cost reductions due to:
·       Streamlining processes, such as business travelers capturing receipts on their mobile devices
·       Eliminating costs of printing, delivering, physically storing documents
·       Configurable workflows facilitate digital routing of expenses for approval
The ROI of automating your expense management
#2 Enhanced productivity and efficiency company-wide
Also of strategic interest for your CFO is the fact that automation of your T&E process will without a doubt enhance your organization's productivity and efficiency. So once you have mapped out your current process, you will be able to calculate the time spent on the execution of the manual tasks.
Research shows that it takes up to 23 minutes to complete one expense report and that it takes an additional 15-22 minutes to correct this one expense report. And when you come to realize that the average number of reports containing errors is 22%, you can do the math. In order to make your case more visual for your CFO, it would be a smart move to show him/her the costs and the lost selling opportunity:
Individual employee:
Hourly wage of salary X Time spent per report = Overhead cost per report
Sales representative:
Total available selling time / Time spent per report = Lost selling opportunity (%)
#3 Improved visibility into cash and spending
20% of companies point to a lack of transparency/visibility into data as one of their biggest expense management pain points. So it is obvious why visibility is a key pain point for CFOs. The answer to this problem is pretty clear cut: implementing and integrating a web-based system. This solution offers the following benefits:
·       The integration of a web-based system with an ERP or general ledger system delivers 360-degree visibility into spending while automating workflows;
·       Integrating a web-based system with a credit card feed provides greater control over spending and faster reconciliation;
·       Automation puts information at the fingertips of your CFO and other cash managers.
The 5-step Plan To Travel & Expense Management Automation
#4 Support strategic decisions
With your CFO's changing role put focus on the transition of going from financial scorekeeper to financial strategist. And the good thing about an automated expense management solution is that it provides reporting and visibility into data across systems – with instant access to information. This will help your CFO to:
·       Quickly measure spending against budgets;
·       Manage budgeting, planning, and forecasting;
·       Identify historical budget overflows;
·       Align automated expense management strategies with enterprise objectives.
And the granular data that the automated expense management solution provides also helps your CFO to:
·       Study spending tendencies by department, employee, expense type, and more;
·       Identify opportunities for consolidation of suppliers;
·       Equip sourcing teams with the data they need to negotiate contracts;
·       Eliminate delinquencies and late fees.
#5 Mitigate risk and compliance concerns
Last but not least, risk mitigation is racing up the management agendas and not in the last place of your CFO. It is mandatory for businesses to prove the effectiveness of internal controls and track compliance with complex regulations. The great thing about automated expense reporting solutions is that they provide instant access to expense data as well as built-in compliance features.
Also, regular audits of expense reports help businesses pinpoint areas of non-compliance, flag expenses for potential fraud, curb bad behavior and ensure that expenses meet tax rules.