In this piece from our "T&E for Dummies" series, we'll go further into the phenomena of "expense reports" and convince you why we think it's a thing of the past.
So, what is an expense report?
An expense report is a form completed by employees to itemize the expenditure for which they are requesting reimbursement". Short and simple, it is a report classifying and giving details about the expenses that the employee wants to be reimbursed for. 
Depending on the size of the company, finance teams usually receive a massive number of reports per month from their employees who have incurred business expenses on behalf of the company.
In order to validate the authenticity of the expense, employees normally must attach physical receipts to the report as proof of the expenses.  Only with these receipts the employer can examine the submissions for accuracy, validity and can eventually proceed to the payment of the requested amounts to his employees.
Learn here about our receipt scanner
Discover 5 ways to transform your expense reporting
Why do you need them?
Working with expense reports has a few downsides: think about the workload peaks that the finance department has to deal with every end of the month when every employee runs to their table with last-minute reports. 
This leads to another major problem; the lack of visibility of spending. If all expense claims need to be compiled in a report before they can be submitted, that means the finance department is left in the dark on the total expenditure until the report ends up on its desk. 
But thanks to modern technology, this burden no longer has to be carried. Instead of having to wait an entire month to fill out a report – while hoping you did not lose any receipts in the meanwhile, a simpler solution exists real time expensing . 
Learn about our mobile expense app
What is real time expensing ?
Real-time expensing means that business expenses can be submitted as you incur them. The entire concept is to process expenses through a digital tool, from their submission until final reimbursement approval. This innovative expense processing is not only good for business travellers but also the finance team and expense approvers.  
Business travellers will no longer need to keep receipts and manually upload data in a spreadsheet once a month – and then wait forever to be reimbursed. With real-time expensing, the reimbursement process happens in real-time thanks to de digital flow of expense processing. 
For the expense approvers and the finance department, there are other benefits brought by this tech wave. They will be able to constantly keep track of the expenses that are being incurred during the month, preventing the financial department from unpleasant surprises when the closing period comes.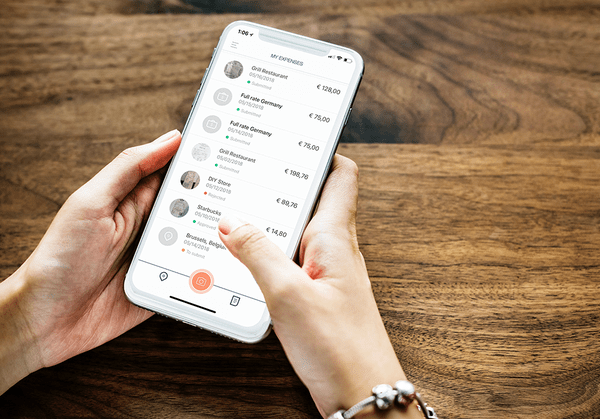 Just Rydoo it
If you want to get rid of outdated expense reports and find out more about the benefits of automation and real-time expensing, book a demo with one of Rydoo experts and start a 14 day free trial period. Be ahead of the curve and ride this wave with us.