COVID-19 will be regarded as a disruptive virus that changed the world we knew, and travel will alter in the next months and years. How will our perceptions of business travel evolve? Everyone is talking about the "New Normal," but what exactly does it entail? Is there a significant possibility to capitalize on domestic travel? Let's debunk it and look at the coronavirus's possible influence on how we travel for business.
Everyone in their very own office
One of the other major changes we've seen during lockdown is the number of people working from home. The assumption that you need to live in – or even near – the city where your main office is based may no longer hold true. But what does this mean for domestic travel?
A boon for train companies
Those who work at home, and whose home is not in easy access of their work, maybe making a great number of domestic travel. And this could be a boon for train companies. Employees taking trains for two or more hours into Berlin, London and Madrid once or twice a month will add substantially to domestic travel. And the extras usually reserved for long-haul flights will start to apply to trains – better meals, better wi-fi and tables more conducive to working.
We may be talking a few years into the future here, but if even 25% of office workers work from home – only visiting now smaller office premises intermittently – that's a lot of extra business travel.
Trains versus planes
In the near term, the issue of 'train or plane' will also favour building a domestic business first. Right now, as the virus spreads, a train appears infinitely preferable to a crammed, vacuum-sealed plane. Trains are roomier, circulate the air better and social distancing can be more easily practised. At the same time as we see more domestic business travellers taking the train, we may also see the climate crisis come back to the fore – if we are to come out of this crisis with a greater focus on the environment, train travel will be a big part of that.
A chance to be environmentally friendly 
Plus, travelling domestically via train could be a great way for companies to show off their environmental, social & governance credentials. This is not to suggest that airlines will simply accept this new normal – significant discounts and packages are likely to be available to encourage nervous travellers to get back on board. But the coronavirus has certainly given us an opportunity to think about whether we even want to go back to the way we were travelling before.
Getting Back on Board: How Will Business Travel Look After Covid-19?
Bonus Track: Interview with Rydoo's CEO
Sebastien Marchon, CEO of Rydoo, is facing a changing world. "It's been a challenging period for everyone and, of course, our first thoughts are with all those affected. At Rydoo, we are just trying to do the best for our employees and clients.
"And we've certainly been impacted. In the first week of March, our business volumes dropped by about 20%. And on the travel booking side of our business, bookings are down 90%."
These are significant numbers for any business, but Sebastien believes Rydoo is better placed than many of its competitors.
"We're less impacted, as we run a travel booking and an expense-management business – both of which are lighter-to-implement digital platforms." Further digitization is something that has been keeping the sales team busy in recent weeks, as more and more companies look to move more processes online.
Learn more about digital expensing
Rydoo is a Global Company
Rydoo is also a global company, based in 63 countries, some of which will be more impacted than others. And many countries – those not as impacted by the virus – continue to see business travel, hence travel bookings being down by 90% and not 100%.
Of the 11,000 corporate clients that subscribe to one or both of Rydoo's platforms, a significant number are small- and medium-sized businesses that may be facing difficulties. And some may not survive. This is, in part, why successfully managing cash is such a major part of the company's short-term strategy.
What the future holds
In terms of Rydoo itself, Sebastien is upbeat about the company's prospects in both the short and long term. In the short term, the company will manage cash and optimize its cost structure. In the long term, Sebastien and the team's strategic goals have not changed. This is a high-growth business with a supportive shareholder and a number of great future prospects. But those prospects don't necessarily have to come from companies booking trips again. 80% of European companies are still using excel to do their expenses and use public websites to book their trips. "Rydoo's job is to equip those companies with the tools to run their travel and expenses better, not get them to book more business trips," explained Sebastien.
In fact, more business travel is not really a part of Rydoo's plans at all for future growth. Sebastien is supportive of the idea that things can't just go back to normal once the virus is gone: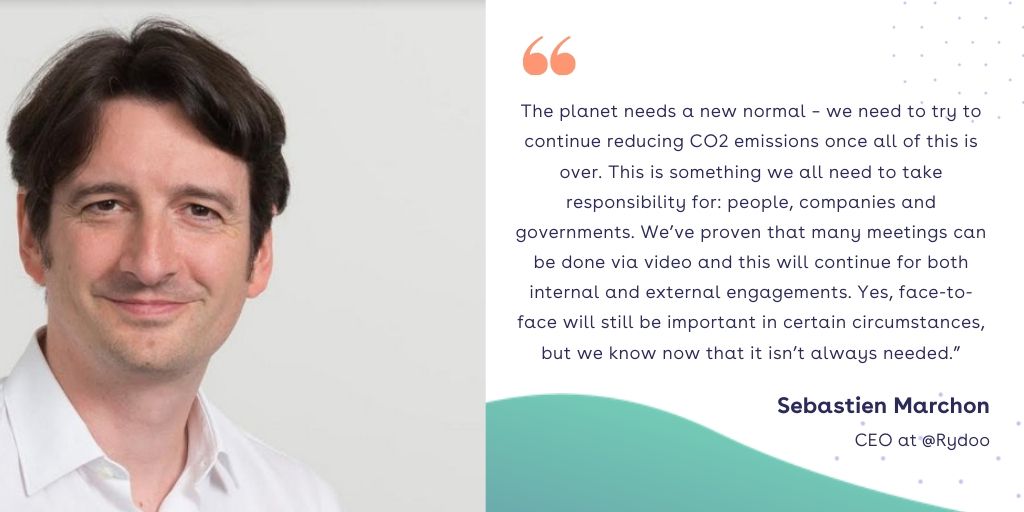 What lies ahead
Rydoo is certainly practising what they preach. Sebastien and the team will be travelling less and putting a greater emphasis on virtual meetings. In addition to the environmental impact of travel, "The health of our employees is my number one priority – we asked people to work from home before lockdowns were announced. At Rydoo, we want to protect the planet and our people."
But how does Sebastien see the months ahead, both for Rydoo's industry and the company itself?
"I think we are currently in the first stage, which is lockdown, and almost no-one is travelling. Between June and the end of the year, restrictions will be slowly removed, but travel will still be limited. Essentially, people won't start travelling again at any real level until the beginning of 2021.
That's a long time, but Sebastien is confident that, as an agile, fast-growing company, Rydoo will thrive. He finishes by saying, "We can adapt our product and our value proposition based on market trends. The coronavirus will not be changing Rydoo's long-term strategy."
Get on board with Rydoo
Once you're back on board, with domestic travel or long-distance flights, you'll want to be fully prepared and ahead of the curve, isn't it?
A travel and expense management tool can give you exactly what you need to embrace digital transformation and have an edge over your competitors. Book a demo with one of our specialists and find out how Rydoo can help your business get back on board.