Even with the ever-increasing security we've come to expect in airports, travel has been made as convenient as possible. Online check-in and priority boarding speed the boarding procedure, and many of us may even scan our own passports on the way out. The voyage itself has become a procedure and an afterthought — this will no longer be the case. New rules of business travel are being set, and we will have to adjust to them whether we like it or not.
Join the queue
It's likely that when airports reopen, the queues at immigration will get longer and longer, as temperatures are taken and documents are checked. We're already seeing this in China, Singapore, and South Korea – countries, where the virus has been beaten back and focus, has turned to incoming carriers.
In many respects, the airline industry will rely on having a lot more information on the coronavirus in the months ahead. Immunity passports, for example, may become a practical means of allowing travelers into countries that are safe in the knowledge that they cannot catch or spread the virus. However, at the time of writing, the World Health Organisation (WHO) is still unsure as to whether one does become immune after catching the virus or whether one can indeed be infected twice.
New Rules of Business Travel Might Not Make It Feasible
This kind of information will be vitally important as countries come out of the various stages of lockdown at different times and impose different rules on those coming from abroad. Many countries currently impose a two-week quarantine for all those entering the country – that is certainly not conducive to business travel. There are areas of the world where such measures are not in place and business travel is possible – Rydoo CEO Sebastien Marchon informed us that 10% of Rydoo's clients are still booking trips – but travel at present is almost impossible if your business looks to the US or Europe.
Onboard the planes themselves, the middle seat is likely to remain empty to help with social distancing – easyJet has already announced this measure – and masks could become compulsory too. Airlines may even refuse to board if a slightly too high temperature is taken beforehand.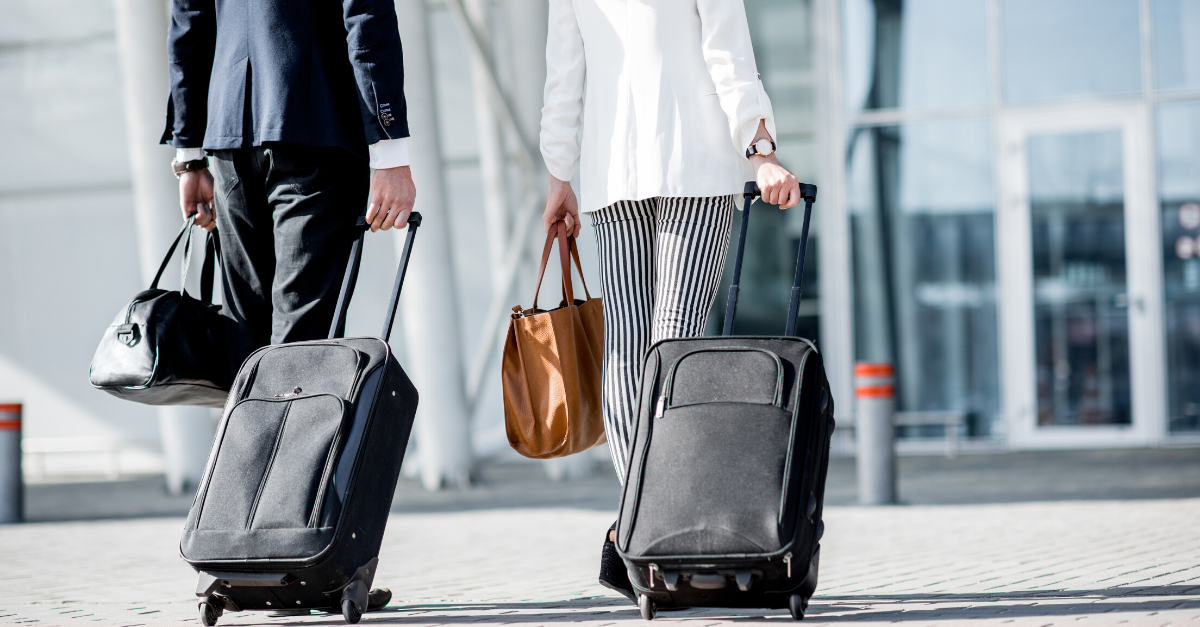 Rules Will Be In Government's Hands
However, it is probably best not to exaggerate the influence airlines will have in these matters. It's hard to imagine countries like China leaving travel restrictions and rules at the discretion of its national airlines – the government will most likely be dictating the measures required to let people in and out of the country.
In general, however, as windows of travel open up and potentially close again, disruption could occur at any moment, seating will be limited and, depending on location, prices may be high.
Your demands
And what will employees be demanding? What new rules of business travel will need to be inserted into travel policies to allow employees to feel safe and cared for? Will companies have to supply masks to employees for every trip? It's possible that some companies will have to pay for coronavirus tests or, when the time comes, a vaccination.
One major change will be the level of insurance both companies and employees may demand
And it may be more expensive too. Flight insurance doesn't cover pandemics, but it most likely will from now on. In the future, when travellers could find themselves infected hours before a flight, or flights are canceled at the last minute due to a reinstated lockdown, people may be making a lot of claims.
Prepare your company for the future of business travel
and stay ahead of the curve.
Digital solutions for a disconnected world
There will always be new rules of business travel to be learned – not just in times of crisis. Booking trips to, and claiming expenses in, different destinations are often difficult, so an end-to-end travel & expense package can be a vital tool for any business.
The Revolution of Line-By-Line Expensing
One of the great benefits of a line-by-line expense app and the travel-booking system is that it gives you more control over your budget and where your employees are staying, even if they're scattered across Europe and the rest of the world. Our own Rydoo system has a number of functions that allow you to gain a better understanding of your company's travel & expense cost structure. We can help you make more informed decisions when it comes to cutting costs and channeling resources into areas of the business that may be more inclined to experience growth in these uncertain times.
Rydoo's app also helps you keep your travel & expenses policy up-to-date with changes in the outside world – users can be informed of these modifications with the push of a button. You can also implement more stringent changes in your travel & expense tool, ensuring automated compliance with your internal policy. Other functions allow you to automatically limit trips in the system, identify destinations you would rather employees did not travel to, and quickly find out where your employees are staying when a lockdown or other healthcare emergency occurs.
In a world where we're all working from home, a digital system that is convenient and easy to use is vital
There's no internal post or file for all those paper receipts when most or all of your colleagues are at home. A paperless system where everything is done online is one of those functions that make working from home possible, especially if it's something we'll be doing a lot more of in the years to come. The Rydoo app is also easy to implement and make changes so – you can get everyone on board with what you're doing without everyone having to be in the same room.
And There Is More
Rydoo can also help you keep on top of your cash flow and boost your cash position. The integrated VAT recovery service allows you to reclaim VAT on travel expenses fast and efficiently. And, depending on the jurisdiction, it even lets you reclaim VAT retroactively for up to five years.
A digital solution for your travel & expenses can offer security, convenience, and cost control – just what businesses need at times like these.
What Lies Ahead for Business Travel?
Everything you need to know before you get back on board.
Where are we going next?
Business travel is cut in economic downturns and people generally travel less. But this is different. Planes weren't grounded in the market downturns of 1987 and 2008, and business travel soon continued to grow. In both the world we live in and the way we want the world to be, travel may never be the same.
Although we think people will travel less for business, there will always be benefits to face-to-face meetings and crowds of people, not just making deals and networking, but connecting. Domestic travel will likely recover first, and slowly people will get on planes. And eventually, we'll be back in bars and restaurants closing deals. With the help of a digital booking and expense management platform like Rydoo's, we think businesses can better manage the rules of this ever-changing world.
Learn more about our digital expensing
But we aren't going back to the old normal
We have an opportunity here to rethink the amount of travel we do and look at the world anew – we don't have to travel for business as much as in the past and that means businesses can help make a difference to the environment.
Video conferencing will certainly have its place in this new world and will undoubtedly be used more often as more and more employees work from home. But connecting with people face-to-face will never go away, so business travel – on some level – will continue. Wanting to make those face-to-face connections is human nature and wanting to build a better, cleaner world is too – we at Rydoo don't believe these ambitions are mutually exclusive.
Get on board with Rydoo
Since the planning stage of your business travel, Rydoo is your best friend. Book your hotel, flights, collect your per diems, and much more – everything in our app and in the palm of your hand.
Now that you have more insights on the new rules of business travel, you know how handy a T&E management software can be. Book a demo with one of our specialists and find out how Rydoo can help your business get back on board.