We launched Rydoo with one goal in mind: to create the greatest expenses system available, saving businesses time and money, and we feel we've succeeded.
There are several types of expenses management software on the market, many of which have been developed (or purchased) by established software businesses such as SAP Concur, but we feel we have an advantage over them, and we'll explain why in this post.
Don't just take our word for it – you can always request a free, no-obligation sample to check for yourself, but in the meanwhile, let's dig in and discover why we feel Rydoo over SAP Concur wins hands down.
Expenses for people and not processes
Many systems were developed from the basis of replicating a paper expenses process. You spend money, collect receipts, then once a month you put in a single claim which then goes from desk to desk taking time and effort to process.
A lot of systems replicate the paper process very well, like SAP Concur but we took a different approach.
When we set out to develop Rydoo we did so with a blank sheet of paper and this is what drives everything we do. We realized that we didn't have to copy what anyone else did and we certainly didn't have to simply reproduce an expenses process that had been around for donkey's years.
Instead, we realized that we could look at the way that people work in real life and design a system from the ground up that would work with and not against them.
We're fleet of foot and are constantly improving Rydoo, making it better for the user, developing new and exciting additions to the app. All of our updates are included and free. No expensive patches and upgrades from Rydoo.
For us, this is the biggest difference between us and legacy systems, an attitude of mind.
Learn more about how to get rid of expense reports
Real-time expensing is the way to go
We've all been there.
You go through the month collecting receipts, keeping them safe until the last week when you need to complete an expense claim.
Then when you get to your folder with all these bits of paper in you realize that you haven't been quite as careful as you thought. You suddenly find that some of them are missing and with others, you can't remember what they were for!
With SAP Concur you are pretty much stuck and have to rely upon developing better organizational skills and a great memory.
With Rydoo the user simply takes a shot of the receipt at the time they spend the money and the app does the rest.
Rydoo takes the information on the receipt, transfers it to the app, and collects and processes it at the same time. It automatically processes the expenses claimed in real-time so that the user doesn't lose or forget things.
In other words, it works the way people do.
Over 1 million professionals worldwide are using Rydoo.
User-friendliness
Because we built Rydoo from the ground up to be the best expense management tool, it meant that we could spend time looking at the whole user experience.
We realized that we couldn't compete against the great training resources that Concur produces so we decided to make the app so simple to use that you wouldn't need any training at all!
Why develop something that requires hours of training to use when you could produce an app that gets users up and running in a matter of minutes?
The more user-friendly an app is, the less training, support, and implementation time is needed. Sure we don't sell as many consultancy hours as SAP but then we have more than a 97% retention rate with our customers!
Superb support
There's nothing more infuriating than trying to work out how to do something on your new system and being directed to a chatbot.
From the very early days, we decided that we wanted to have real live people available so that if you needed support you could get it.
That's why we run a 24/7 support service where users can contact someone in their own language and why we have local support offices worldwide.
You can't get live support from SAP. Period.
NTT Disruption deploys an expense management solution in 3 weeks.
Pricing
No self-respecting decision-maker would choose a system without exploring the price and again we believe we win on this score too.
With Concur you pay per expense report. If your company reimburses employees twice a month, this system is more expensive.
If you use more than your allotted amount of reports then you pay a penalty rate which makes things pretty expensive.
At Rydoo we prefer to treat our customers as partners.
Our pricing is based on active users. This means that if someone doesn't use the system in a particular month, you don't get charged.
There's no base fee for the software, no penalty fees, no surprises.
With user licenses costing as little as €6 per month per active user, Rydoo provides an exciting and cost-effective alternative to SAP Concur.
Compare Rydoo to SAP Concur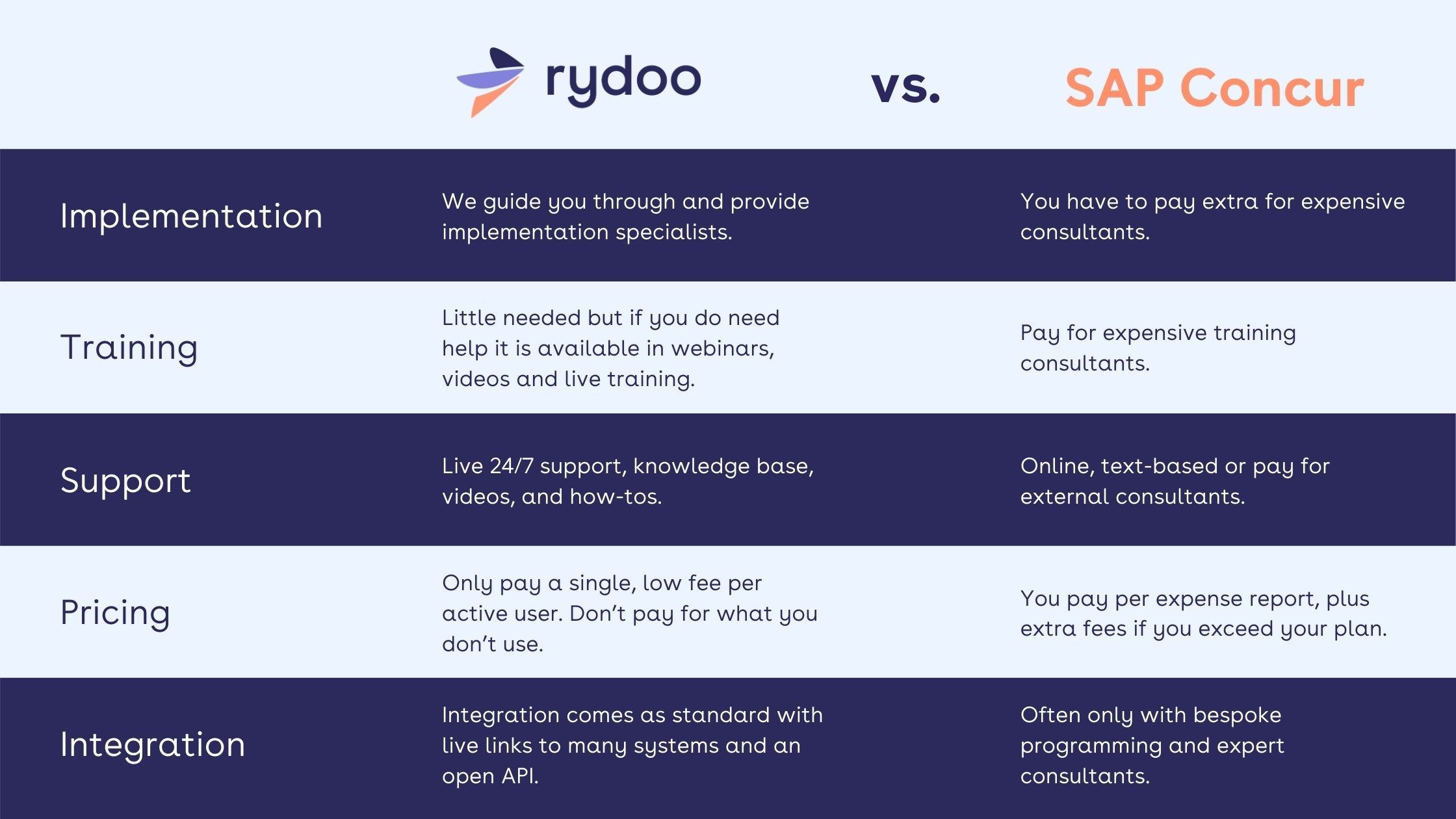 ROI
One of the most important tests for any system is how quickly it returns the investment required.
ROI shouldn't simply be based on how much it costs to implement a system upfront. It should also include things like training costs, consultancy spending, and the reduction in efficiency whilst users get up to speed.
We firmly believe that Rydoo has one of the quickest ROIs on the market due to the low price point, simplicity of implementation and ease of use. You can calculate your ROI here.
In short, users get up and running quicker with Rydoo than SAP Concur.
Summary - choose Rydoo every time
We're positive about the quality of Rydoo and we believe we have every right to be.
Rydoo has one of the quickest times to implement, the cheapest licencing costs and integrates with many systems out of the box.
You don't need an army of experts to help you implement, train users and integrate Rydoo and we're pretty confident you can't say the same about Concur.
Our best of breed system is constantly improving and our team of developers are always coming up with new ways to make the expense process quicker, slicker and more user friendly.
Like what you hear? Why not book your free, no-obligation demo and you can see for yourself why we think Rydoo is the best on the market.