The world of local compliance related to expense and spend management can be complex and sometimes hard to navigate. At Rydoo, we have gathered a lot of knowledge and experience with these local rules and regulations by working hand in hand with clients all over the globe.
At some point, it made sense to gather this knowledge and provide not only our customers but every finance team with a useful platform where they could find everything they might need on the topic of compliance. That's how the Rydoo Compliance Centre was born.
What is the Rydoo Compliance Centre?
As a global player in the expense and spend management market, we see that keeping up with all local rules and regulations is often a struggle for global organisations. We want to save organisations from this tireless research and looking for information in all different places, and that's something they're now able to find in a single place, with this new resource centre.
The Compliance Centre is a free central source where organisations can learn everything about going paperless, mileage rates, per diem rates and other compliance requirements related to expense management. The information you will find there is always up-to-date, so your organisation can stay compliant and avoid penalties at all times.
"The compliance centre is the ideal source of information for the prospect (as well as ourselves). All the necessary information is compactly bundled in one place. It ensures that we are always up-to-date with local regulations and are able to support prospects in the right way. Since Rydoo launched the compliance centre, it's easier for us to pass on correct and relevant information about local regulations to potential customers about the countries where they are active."
– Sara, Account Executive at Rydoo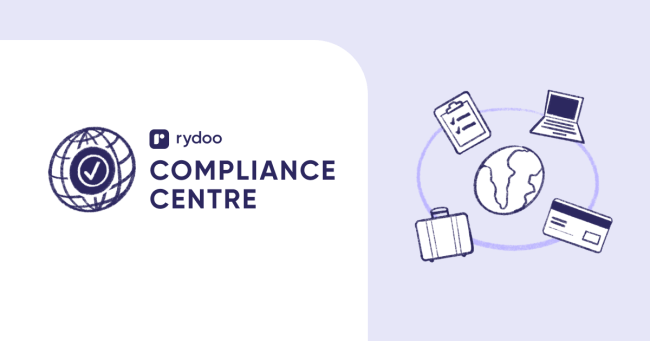 How did it evolve?

Our Compliance Centre was launched in May 2022 with three countries: Austria, Belgium and United Kingdom. This project is a great example of a joined effort from people all around the company, as VP Customer Success Delphine, Head of Controlling Services Bram and VP Operations Shirley collaborated in the launch.

After joining Rydoo in September 2022 as a Product Expert, I took over this project with the main goal of making it grow even further. For that, I've been working alongside Ana, our Content Writer from the Marketing team. Since then, we've been able to add more countries to our ever-growing list. As of today, we have compliancy information available for 16 countries spread across 4 continents!

Along with the content, at the end of 2022 we've also made a few minor updates on our web design, with the help of Marcos, our Web Developer from the Marketing team, to improve user experience and readability. This enables visitors to search more easily inside our knowledge database and have a better overview on the page.

What's next?

We still have a lot of plans for the Compliance Centre, and a lot of those will take shape during 2023. Of course, we will continue adding more countries (let us know which ones you are interested in seeing!). Additionally, we are also planning to add more topics related to expense and spend management to the existing articles.

Evidently, all this new content needs to be as visible and searchable as possible, which is why our Marketing team will make some improvements. They will make sure everybody can easily find their way to our Compliance Centre with a simple Google search.

Lastly, we are also looking into translating the articles in the local languages and setting up a subscription service, so everybody interested is instantly notified whenever we have compliance updates. Exciting improvements ahead, so stay tuned!

Rydoo is committed to make expense management the easiest part of your work, and that also includes being able to easily follow local rules and regulations across the globe. From the German three-month rule, Swedish mileage rates for boats or the Singaporean per diem rates, you can now easily find all information you are looking for in one place.

It's that simple.