Have you ever heard of a company that creates 20×20 meter big car vending machines for a living? Or a company that organizes disability sport fairs on National Paralympics Day or one that puts up a living (yes, living) medal count during the Olympics? Meet Avantgarde, one of the world's hippest agencies ánd proud customer of Rydoo.
Avantgarde is what it calls itself a "brand experience agency." It hasn't borne that term forever though. Actually, everything started with a somewhat "avant-garde" fashion show back in the 80s. Throughout the years Avantgarde has kept its avant-garde spirit to do a lot of other cool stuff. "Elevating brands out of the murkiness that they may be in" that's how Victor Görgey, Client Service Director in the Digital team, summarizes all these remarkable feats.
A digital native's dream
Victor's Digital team is primarily reponsible for – suprisingly – "digitizing as much as possible" within the company. It was just a matter of time until Avantgarde's expense management process would come under the close scrutiny of the Digital Team.
"We had already implemented an ERP system called EasyJOB a long time ago, but were still using too much paper in our day-to-day expense process", Victor explains. "By using paper I mean keeping original paper receipts, scanning them into the computer, printing out sheets and all that other hugely time-consuming stuff. So it was about time we digitize our travel and expense management as well."
I believe that sometimes we need to kick our people in the butt and say: please download this app. Because afterwards, when they see how easy it is, their reluctance melts away like snow in the sun.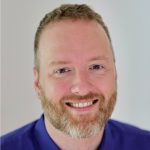 Victor Görgey
Client Service Director
Victor, also known as "iPad owner number four in Germany", wears the nickname "digital native" as a badge of pride. "We absolutely wanted a solution with a mobile app. It just makes everything easier." Next to Rydoo's on-the-go approach, the integrations capabilities with Avantgarde's ERP system were key in the decision process. "Rydoo's two-step approval workflow, kind of mimicked the workflow we had already been using a long time in EasyJOB, so there is no point denying that that was a big plus."
For Victor, it was love at first sight with Rydoo: "Rydoo – or Xpenditure, as it was still called back then – was basically the first online tool I found, and I just stuck with it. If it looks good and its affordable, I'm okay with choosing the first that I find. I have to be honest."
Say yes to change!
Victor's story about Avantgarde, the bunch of digital, creative minds, and Rydoo's online expense management tool, seems like a match made in heaven. But life is not a bed of roses. "We may look like really cool and hip people, but the truth is that most of our people are not so open to change," Victor admits. "It really had been a valley of tears when we introduced EasyJOB. But I believe that sometimes we need to kick our people in the butt and say: please download this app."
"Kicking their people in the butt" was not a bad idea this time either, according to Victor. "Afterwards, when they see how easy it is, their reluctance melts away like snow in the sun. Take a look at our accountants, for example. They are perhaps the least open to change, but you should see how they love to decline expenses now."
"Together with Rydoo, we also already implemented a new approval process. It was the vision of our CFO to have more responsibility at director level, so now every director needs to approve expenses of every employee within his or her own team. Again, people don't like change, but approving expenses is part of a director's job description and Rydoo has made it a lot easier to do this job."
Any hurdles?
Any good relationship needs a good fight from time to time, doesn't it? There surely must have been some stumbling stone in this love affair too, no?
"Well, yes. It's not so self-evident to move from a completely paper-filled office to a paperless office without having some steps in between," Victor explains. "What we would have liked was a bit more customizability regarding reports. There was also a bit of misunderstanding about the export of receipt pictures in pdf format. Now I know it's possible, but that wasn't always too clear."
What's up next?
For Avantgarde, the cost of implementing Rydoo did definitely not outweigh the benefits. "Let me be honest with you: we're not the kind of company that is going to examine the return on investment to the cent. Sometimes the soft facts already tell you enough: it just generally feels easier, our accounting team has less to do and yes, we are saving money – maybe half a person per month."
Now that everything is working smoothly, Victor is already thinking about expanding Rydoo to all of its other offices. "We want to expand the use of Rydoo as much as possible throughout our organization. I am a man of logic: it just makes sense to have the same workflow everywhere. Let's do it!