Remote working has become the default for many companies since COVID but it may surprise you to learn that at Rydoo, we instituted remote and hybrid job roles right from the start.
We believe that there are tons of benefits to working in this way and with customers all around the globe we've always taken a flexible approach to where our people do their work.
But does it work in practice?
In this article, we thought we'd introduce you to a couple of our key people who, if they aren't totally 'digital nomads' are certainly on the way there!
We wanted to show why we love the hybrid working model and what benefits we've gained from it in real life.
Hybrid and remote working - the theory
So what are the benefits of remote and hybrid working?
Advances in connectivity and online systems over the last few years have meant that there is an ever-increasing number of people who are choosing to work without a permanent base and as a result, there is much more in the way of academic research on the benefits.
US executive job site Ladders is reporting that by the end of 2023 25% of high paying US jobs will be remote, up from just 4% before the pandemic.
In its 2021 'state of remote working' report, Owl labs found that 90% of the 2,050 full-time remote workers surveyed said they were as productive or more productive working remotely and a massive 74% said working from home is better for their mental health.
Naturally, not everyone can work remotely. It's difficult to see how a barber could do their job online for example! But in advanced economies, where digital service-based work is more prevalent, then more people can take advantage of the move. 
And as Inc reported in 2019, remote workers are 13% more likely to stay with their employers and are happier to work longer hours in return for ditching the traditional commute.
So we can see that working in a flexible pattern means that workers can theoretically be more productive, happier and less likely to look for a new job.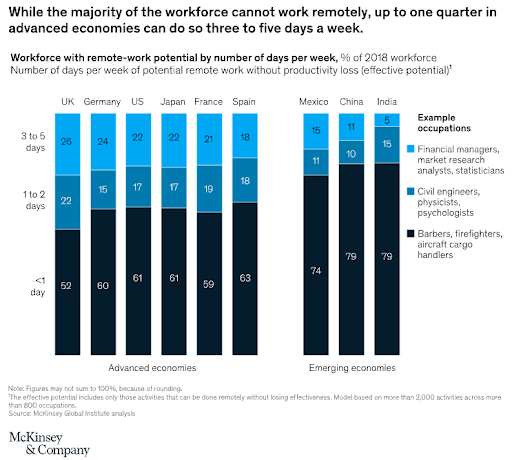 Remote working: The Rydoo experience
So all of that sounds great in practice, but what have our people found remote working like on the ground?
We spoke with Customer Advocacy Manager Renata d'Escragnolle Taunay and Justin Borja our Partner Manager for the UKI & Nordics to see how they found hybrid working in practice.
To start off with, we wanted to know what their experience was of remote working before Rydoo and what they thought it might be like.
Renata began with a single word "Messy!". She explains " I have to have my working area tidy, I can't stand a mess so I thought that people working from home would be surrounded by stuff. I just thought it would never work".
So what is their working environment like?
As Justin explains" I'm originally from Manilla so living in Belgium was a big shift for me and I thought I would miss my family. But remote working allows me to work on my dining table in Europe and from my mom's kitchen table when I am back home".
Renata however doesn't really have a fixed base as such, preferring to let her wanderlust take her where the next cheap flight is available.
"I don't have a fixed office environment. I live in Lisbon, but I get bored easily and love travelling. Remote working means that I can wake up one day and decide that I want to work on the upcoming week from a different country. All I need to do is talk to my manager upfront and pack my suitcase" and she goes on to say "I feel like I have so many holidays because I am not tied to the office and don't spend hours commuting."
To be sure, working remotely or in a hybrid fashion does take some getting used to without the familiar people and environment around you so did they have any problems adjusting to a new lifestyle?
"To be honest, my parents said "don't do it", because they couldn't see how it would work in practice" says Renata." they didn't believe it was real work!"
Justin notes that the global focus of Rydoo made the transition easier. "It helps being in a multinational company. Rydoo gave me the freedom and trusted me and it is easy for them [his parents] to understand that I am doing my work"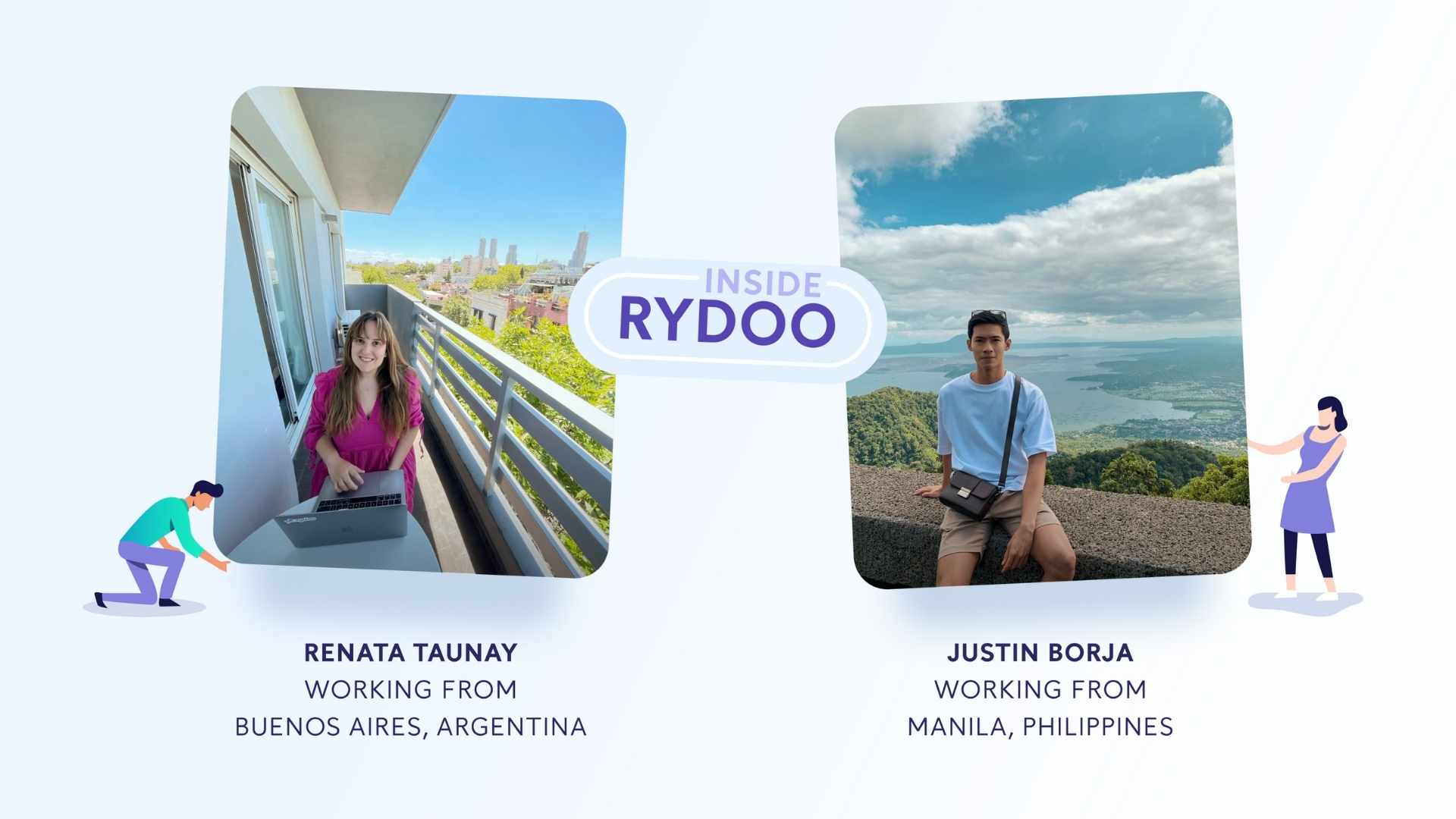 Tools for remote working
Living in an interconnected world means that there are lots of apps and systems out there to help people stay connected and to work productively, even if they aren't in the office.
We'd be remiss if we didn't mention that Rydoo is designed to specifically help people with their expenses when they are on the move but our digital workers also use a variety of different apps to help them.
So what tools do our interviewees use?
For Renata, finding cool places to work productively is high on the list " I love Workfrom because it allows me to find cafes and coworking spaces that I can drop into and get on with my day" she says "and of course Facebook groups so I can discuss with local workers and digital nomads where the best places are."
Both agreed that productivity apps like Slack make staying in touch so much easier and Zoom has become a must-have, especially when you need to speak with customers as far afield as Australia, UK and The Nordics as Justin has to do daily.
Over 1 million professionals worldwide are using Rydoo
Productivity tips for remote workers
One of the biggest objections to remote and hybrid working from traditional employers is that they don't believe people will be as productive away from the office but is this true?
The research is pretty clear; remote working is more productive as people are able to tailor their working hours and locations depending upon their own personality.
Justin specifically arranges his work so that he can go out and meet friends during the day when he is home in Manilla, knowing that the time differences mean that he can then come home and work in the evening.
Both agreed that the office environment is great, but perhaps in small doses. There are simply too many distractions that can stop you from achieving what you want to.
Renata makes the valid point that she doesn't arrive at the office tired from a long commute and can sleep in later in the morning! "I don't get bored with office life this way. I know that I won't look back in the future and think I wasted my time sitting in a car or on a bus".
Justin loves having the flexibility to work in the office in Belgium, from his European home or taking the opportunity to go back to Manilla and spend quality time with family and friends. "I can work in my house slippers if I want and I get to eat mom's home cooking" he says. "I also find that people are so much more relaxed on calls and there's so much less stress".
Have they got any tips for remote working?
Renata suggests getting away from the screen regularly "My manager Rachel taught me to take a walk if things aren't going well and you come back energised and with ideas of how to deal with issues".
Renata also suggests changing your clothes at the start of your working day so that your subconscious knows that you are going to work.
The benefits of remote working
If you read the research into remote working you'll find words like "productivity" and "churn" to describe the effects purely in organisational terms but from a human perspective, what are the benefits of working flexibly?
Justin explains that he really enjoys the change of scenery that remote working enables. " I get to see my family and friends, visit different places and get a different perspective and it just leaves me feeling energised".
Remote working is something that is embedded in the Rydoo culture and yet a visit to the office can also be a good thing as Renata notes "I find that when I go into the office I really value it. Instead of being just a boring everyday visit, I find I really value having lunch with my colleagues, catching up and being really productive because I know I only have a short time there".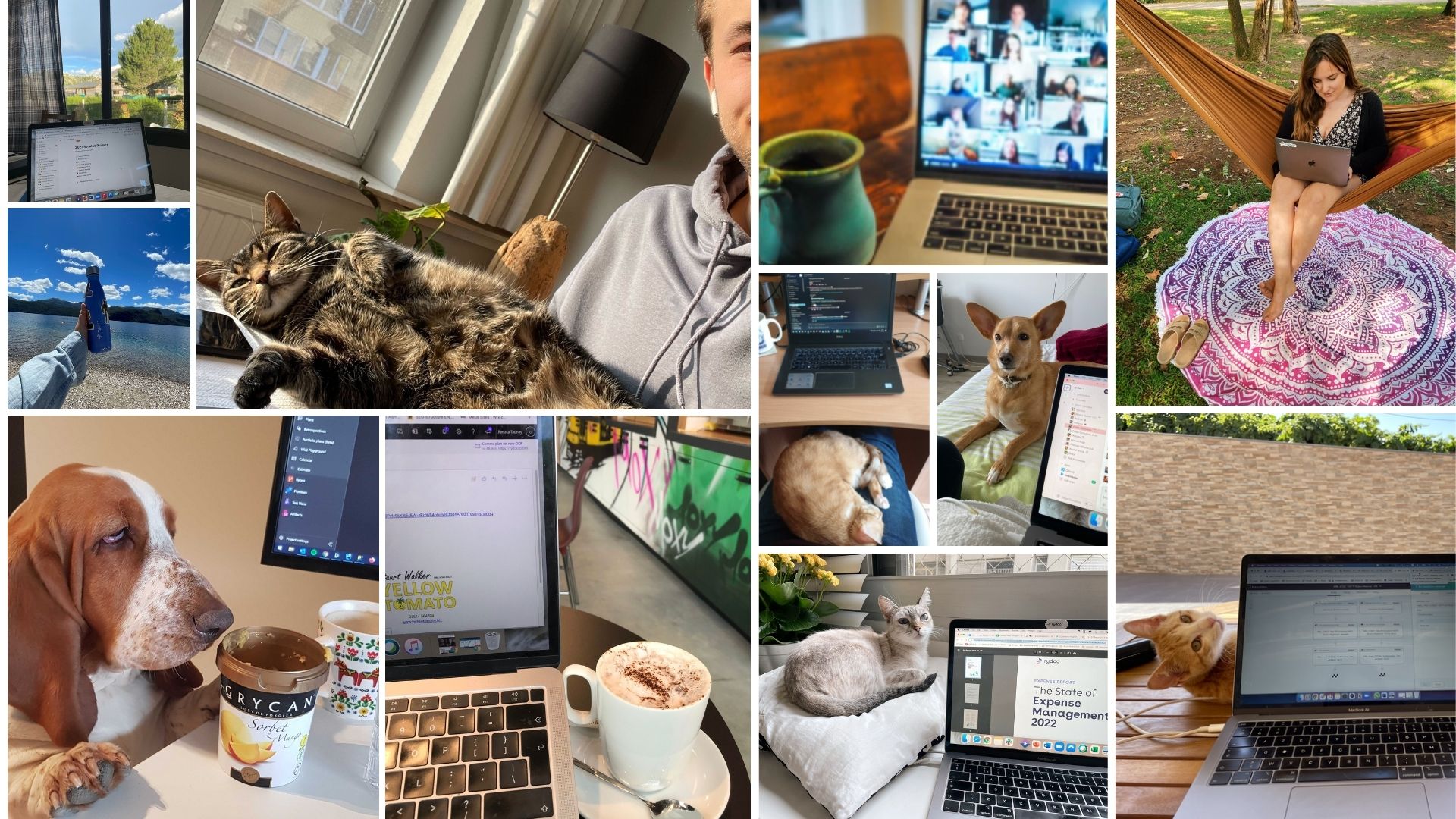 Flexible working is here to stay
So many managers have seen that their fears about wholesale remote working are unfounded that resistance to flexible environments is breaking down.
Employees are also seeing that there is a different way and that they don't have to spend hours in their cars to be a valued member of a team.
The Rydoo experience of remote working is definitely a positive one.
Yes you sometimes have to think in a different way and of course, you have to find the way that works for you but in the end, the increase in productivity and more importantly, employee satisfaction makes it all worthwhile.
We'd argue that faced with 'The great resignation' and a general tightening of the labour market, employers need to be much more creative about how they attract and retain staff and flexible working is one tool that is certainly worth investigating.