Serendipity. You might not know what it means, but you've probably experienced it at least once in your life. When you're looking for your car keys and find that 20€ bill you didn't know you had stashed in a coat pocket. When you're travelling and meet that old friend that you haven't seen since high school. Or when you come up with an idea just for the heck of it, you film a video, it goes viral and you create a whole campaign that takes you to the UK with a giant Rydoo card in hand to shoot a promotional video to announce a new feature. Ok… so maybe this one's a bit too specific, but it happens!
In the world of digital marketing, creating buzz is a well tested and tried formula to attract new business. A simple ad can turn viral in a matter of minutes and turn into something everyone will remember for quite some time. At Rydoo, we've experienced that firsthand with our Rydoo Cards launch, where a video we shot for fun took off on social media, becoming the catalyst for our cards UK launch a few months later. And if you've ever wondered how something like this happens, well, I'm here to tell you all about it.
A random idea and a viral video
I've been working as a product manager for the mobile team at Rydoo for one and a half years, so I've seen up close how the team's so involved, engaged and passionate about the projects we develop, and also how we like to celebrate our achievements and share them with the world in a creative way.
I got involved in the Rydoo Cards project early on. It's been something the team has worked on for the last year and, as a part of the mobile team, I was mostly focused on developing the mobile features of this new module with the help of our talented engineers. But before I joined the team at Rydoo, I had a chance to work for a software company where I gained some experience in content creation for social media platforms such as LinkedIn. So, all in all, my combined experience at these two roles means I'm no stranger to creating products and communicating them to the outside world.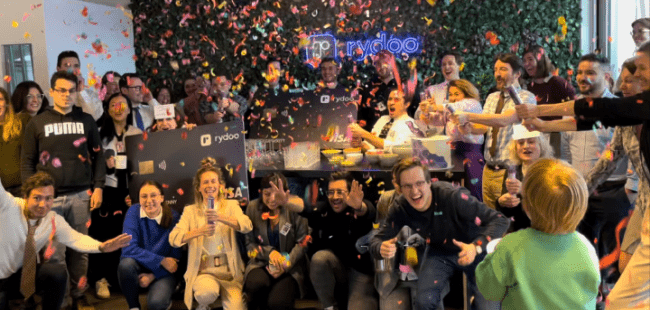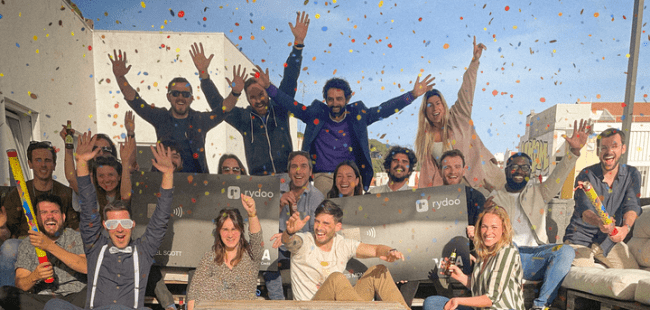 So whilst working with the Cards team — and this also includes our colleagues from Marketing —, I was also a part of the brainstorming sessions around the campaign to announce our newest product feature. At the time, Pedro Souto, who's also a Product Manager, approached the team and shared a video he came across on YouTube where someone was making payments with a giant card, which sparked our creativity and inspired us to do something similar on launch day.
After setting this idea, a new challenge arose, and for that we involved the whole team. You see, we had figured out the card design, the colour scheme, the size of the card, even the place we would order the giant cards from. But something was missing: the card holder's name. We had to figure out who would be the first "official" holder of a Rydoo Card. A few names were thrown around, until our CPO, Seb, started a poll on Slack to involve the whole team. From Johny Cashflow to Kenny Powers, Samantha Savings and Miss Moneypenny, there were quite a few fun choices. The clear winner? Michael Scott.
We were thinking of having some extra props to make this launch a bit more fun. We would like to make a large sized Rydoo Card for a once in a lifetime photo opportunity. This way you can show your family, friends and maybe one day even grandchildren, that you were part of this historical event. But … we need a good name to put on the card, instead of just showing "Cardholder Name". We've gathered a short list of some good/fun names and we would need your vote to make a final decision. So please select 1, 2, 3, etc. as a reaction to this post and vote for which name we should choose.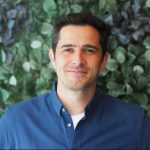 With a chosen name a giant card was on its way to the office… well… our HQ in Mechelen, not The Office. Then, we thought about making the launch a bit more special and have everyone bring on their best The Office outfit for the launch day and in true Rydoo fashion, Rydoo'ers obliged! As soon as we got our hands on those giant cards, we took them and our dashing outfits to make our first Rydoo Cards purchase in the real-world.
It was through a spontaneous burst of enthusiasm and excitement that myself and a couple of colleagues decided to shoot a video without any extensive planning. Imagine two guys, dressed as characters from The Office, armed with a giant card, trying to pay a sandwich at the Mechelen station. The reactions from the cashiers were priceless, and we couldn't help but share the video online. Little did we know that this simple, impromptu act, would generate such an overwhelming buzz of social media.
The video quickly gained some traction with people from different companies, businesses and even countries reacting to it. We gathered over 180k views in the first two weeks alone, something we hadn't really anticipated, but it got us thinking: can we do it again, but as a proper video for a campaign?
From Mechelen to London... on a train
A few weeks after we launched Rydoo Cards, we started working on cards being available not only in Euros, but also in British Pounds. The team had already been working on it and the announcement was close, so we had to think of a way to communicate it. And it didn't take much for us to decide that the best course of action would be to build upon the momentum of the first video.
We also learned a few lessons, and one thing we knew for sure is that if we wanted to turn this mockumentary style video into a campaign, we had to hire a video crew and do it properly. So with the help of our Marketing team, we found a crew, set a date and Benoit and myself hopped on a Eurostar train — back on the train with a giant card, just like the very first purchase — to London to shoot this new campaign.
So, we got together with the video crew, brainstormed the must-visit locations and crafted a plan to capture the true essence of the UK launch. We didn't have a clear plan and we embraced a sense of improvisation, taking something out of each moment as they came along. All we knew was that we had to use our cards in situations our customers in the UK would use them as well, and we did.
From buying a cup of morning coffee at Starbucks to taking the tube and even paying for a taxi, we did it all. And something you should have already figured out about the both of us in advance: we're not actors, so the film crew played a crucial role in guiding us throughout the day. It was an unforgettable experience and undoubtedly one of the most unusual days I've had at Rydoo thus far.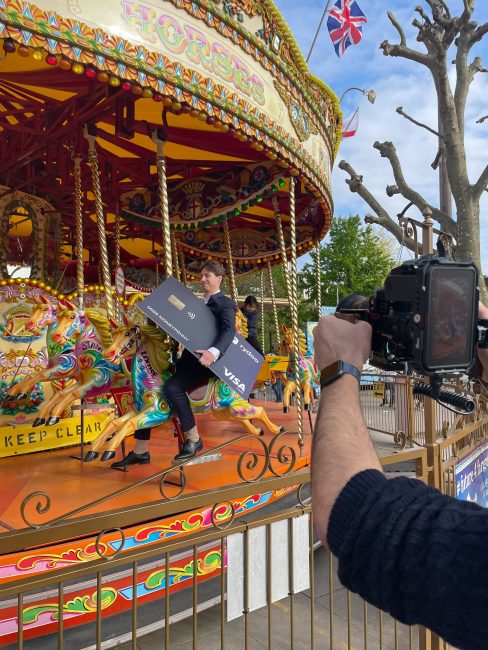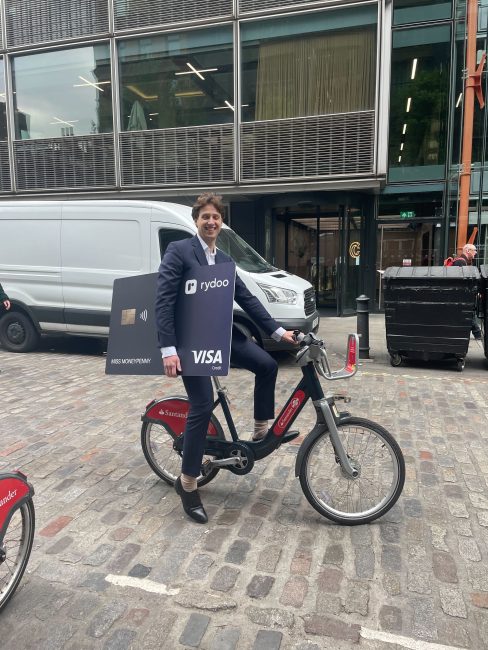 At the end of the day, we came back to Mechelen with a sense of accomplishment, and we just had to sit back and wait for the film crew to work their magic. And they did, as you can see from the video above. It just comes to show that serendipity is, indeed, a powerful thing, and that when you let go of conventions and break free from the ordinary, great things can happen. With something as simple as a random idea, we created a video that had great organic buzz and surpassed all expectations, leading us to a great campaign that is also getting some traction online.
We'll take this lesson moving forward: unique and, at times, silly ideas can and should be explored. You never know where they'll take you.