I was sitting in my office a little over three years ago when I got an email from someone I'd never spoken to or seen in my life. I didn't recognise the name of the sender, but it came from a big client we had onboarded only a few months prior. One that the team had worked closely with and that made us proud to have in our portfolio.
This person was a consultant who travelled a lot for work which led them to spend two hours away from their family on the weekend to submit expenses. Before the company had started using Rydoo's smart expense management solution, employees spent countless hours collecting receipts and filling out expense reports so they could get reimbursed, and even then, they often had to wait quite some time for that to happen.
In the email, the consultant thanked me for the impact Rydoo had in their life. They now had the time to spend Sunday afternoons with family or just relaxing, without having to worry about expense reports or looking for receipts and invoices. The whole process was now digitised.
As someone who's worked in consulting companies, and being a father myself, I know how important it is to have some quality time with the ones you love. So getting this feedback from someone who took some time to thank me, personally, really moved me.
The following day, I printed the email, framed it and hung it on one of the walls of our HQ office. This way, every Rydoo'er can walk by it everyday and remember why we've been hard at work over the last five years to create the best smart expense management solution in the market. It's not always been an easy ride, but for every stepping stone, there's a great achievement we're proud of.
The achievements we're proud of
These last five years have not been easy at times, but all of the team's hard work has paid off. We're proud of every single thing we've managed to achieve together, but there are some things that are really special to us.
The first and probably the most important being to witness our user base reaching a million users since we launched Rydoo. We've always been passionate about the work we do, but acquiring more customers and seeing more and more people use our smart expensing software is something that really makes me happy.
I still remember a time when I would talk to someone about Rydoo's capabilities and people would think it was impossible. Now, over 10 000 companies across 132 countries are using our solution, and like the email I mentioned above shows, it has had a real impact on their employees' lives.
This satisfaction is further proven by our high Net Revenue Retention (NRR) and minimal churn rate. It's one thing to attract new customers, but quite another to earn their loyalty. Our growth doesn't just show in numbers, it's rooted in the trust and commitment of clients who have experienced the value and power of Rydoo and soon realise they want to expand to their international branches.
Our product NPS proves our client's satisfaction with our software, and our mobile app has a big role to play in our success. Providing the ability to submit and approve expenses on the go, with a few taps on a screen, has helped change the way organisations manage their expenses. But it's our user-friendly interface, ease of use and the fact that it's able to analyse expenses in a couple of seconds that really makes Rydoo's app stand out amongst other players on the market, with a 4.8 and 4.9 score in the Google App Store and Apple Play Store, respectively.
"It's one thing to attract new customers, but quite another to earn their loyalty. "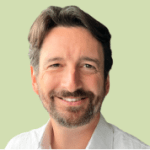 Sebastien Marchon
CEO @ Rydoo
All of these facts combined have led us to manage to triple our Annual Recurring Revenue (ARR) growth since the start of the pandemic, which is a great achievement all in itself, considering the challenges most companies faced during this period. But when paired with our transition to profitability, it's nothing short of extraordinary.
Achieving positive cash EBITDA in such challenging times is a testament to our team's strategic foresight and efficiency. Because growing is one thing, but scaling sustainably and profitably is a different ball game altogether, one we've taken on with a single goal in mind: to win. And we did. In just a few short years, we've managed to achieve that delicate balance between expanding our reach and strengthening our financial foundation.
With the company growing, the team has also grown and expanded to other locations across the world. In 2019, we opened a new hub in Lisbon, which would become a cornerstone for our operations across the world. The office is our second largest in the world, with over 30 Rydoo'ers enjoying the sunny views over the city.
And even with all of these great successes in our pockets, our team of innovators still managed to take one extra leap forward in March 2023, when we launched Rydoo Cards. A smart expense card that puts Rydoo in the wallets and phones of our users, marking another great milestone in our journey to become the best smart expense management solution in the market.
Each of these accomplishments marks a chapter in our ongoing story, a journey of resilience, innovation, and strategic capabilities. But in order to get to where we are today, we had to fight a few battles and overcome a few challenges.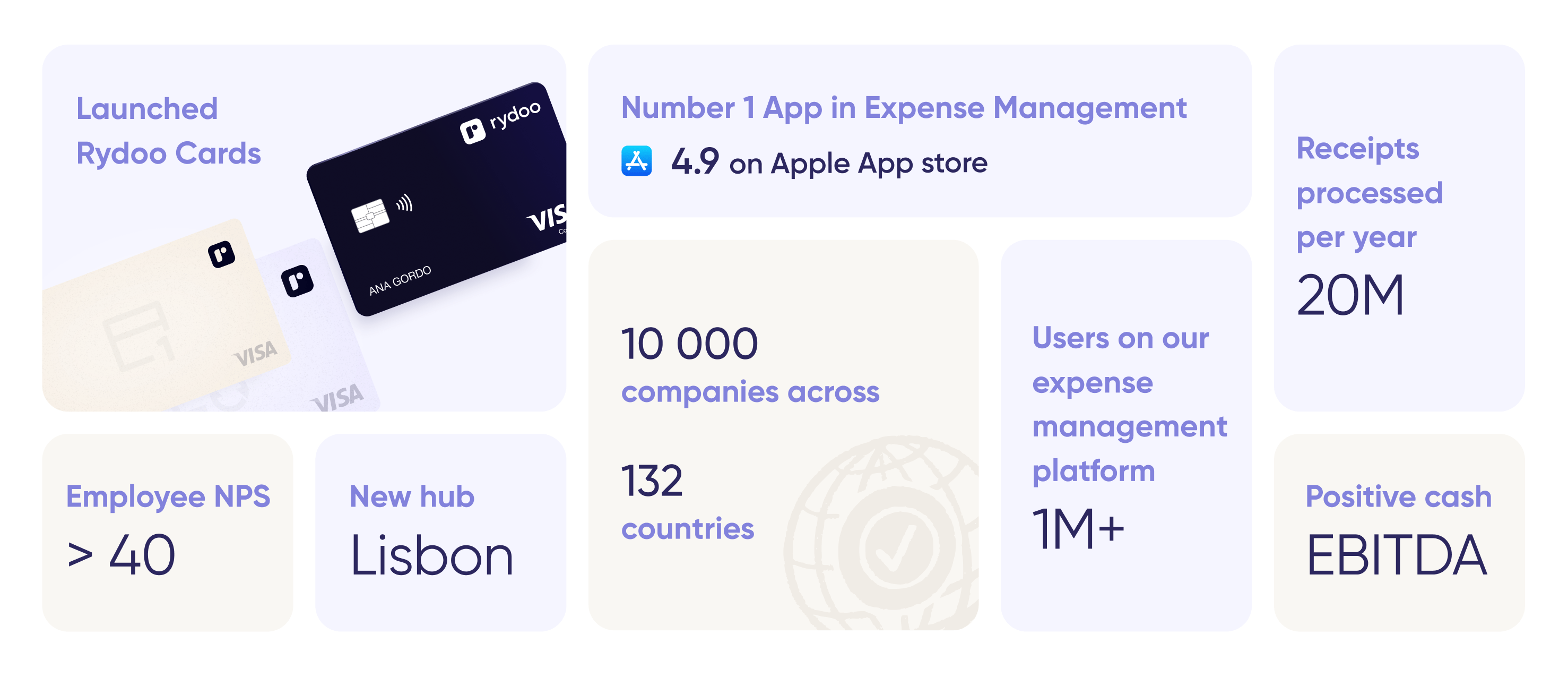 The challenges we've overcome
Celebrating five years of Rydoo is so much more than reaching a major milestone. It's a testament to the endurance, strength and great resilience of everyone on the team, especially considering how much we've had to face throughout this journey.
The first and probably the most impactful was, undoubtedly, the COVID pandemic. At the time, it felt like the rug was being pulled from under us. No one was prepared for the impact this unknown illness would have across the globe, and we were no exception.
From one day to the next, in March 2020, our active user base shrunk by 40%. People stopped travelling, the vast majority started working from home, and no expenses were being submitted. It was heartbreaking to watch all two years of hard work going down the drain, but we didn't back down from the fight.
There's no denying that this was a true test of our persistence, and it paid off. It took us almost eighteen months to get back on our feet, and by September 2021 we were able to rebuild all that we had lost. But we went even further.
That growth brought its own challenges. During these last five years, we have on-boarded more than a million users on our application , and it keeps on growing. And while on the one hand, it meant we were doing something right, it also led to a need to manage larger teams and ensure that everyone had everything they needed to do their jobs and provide the best possible outcome for our customers.
It also meant strengthening our infrastructure so that it could keep up with our growth. Today, our smart expense management software handles over 20 million receipts a year, which requires immense IT power and resources that extend way beyond our team. For that, we had to make a lot of big investments in finding the best suppliers and quickly adjusting our product to fit the needs of our customers in an ever-changing dynamic market.
The market itself, of course, also had an influence in these last five years. COVID brought along a period of great inflation all across Europe. Around four years ago I became aware of these changes, and my experience in the consulting sector quickly made me realise that the private equity landscape was shifting and investor's expectations were changing, so the company had to adjust as well and work on a lot more than just their growth.
Profitability soon became a part of the equation, and that meant a shift in our approach, a daily recommitment to efficiency and sustainability. We had to change, to adapt to this new reality, to create a new strategy and, educate the team to make them understand the need for the changes we were implementing.
One of these major changes was also divesting our travel booking business. Making the decision was tough, but we understood that for each segment to shine its brightest, they had to go their separate ways. It's never easy to let go of something that once made you happy , and we also had great success in the travel sector, but the separation meant that we could solely focus on creating the best smart expense management solution on the market, which became our main goal.
And amidst all of this, in the summer of 2021, Rydoo changed shareholders. Marlin Equity Partners became a majority shareholder of the company in a process that, even though it brought us a lot of great opportunities, also meant an adjustment. As a team, we had to manage new expectations, monitor and review new KPI's and make some structural changes .
Looking back at all of these challenges, it might not seem like much. But the truth is that they didn't come one at the time, but rather stacked on top of each other, all within a couple of years. And that just comes to show how strong and resilient the team is. Because even in the midst of all these challenges, we continue to have great achievements. All this, thanks to our secret weapon.
Rydoo's secret weapon: our team
We're proud of a lot of things as a company. Of the things we managed to overcome in a short amount of time. Of everything we've been able to reach even in the most difficult moments. But one of the things we're most proud of is our team.
We're a team of entrepreneurs and a team in the real sense of the word. One of our company culture's main values is letting others shine, so we believe that, rather than relying solely on individual skills, our collective knowledge is our greatest asset. For that, we give each and every Rydoo'er a place where they can develop their skills and showcase how they truly shine. The result? A team of passionate people who work together, leveraging each other's strengths, to achieve the best possible outcome.
This is reflected in the way we structure our teams — our product squads and sales pods are small, agile and autonomous units. Each team can make their own decisions, allowing them to act swiftly, which is essential when working in the fast-paced world of tech.
"We don't micromanage or monitor office attendance and are a remote-first company. We trust our people, which gives them the confidence to innovate."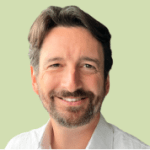 Sebastien Marchon
CEO @ Rydoo
Our flat hierarchy also has a big impact on our company culture and, inevitably, our performance as a team. I firmly believe that executive team members are here to facilitate, not dictate. We're the maestros that guide every team to make their own decisions, whilst we provide the necessary advice, support and guidance, not control.
Responsibility goes hand in hand with trust at Rydoo. We believe that great work and innovation can be accomplished wherever you are. That's why we don't micromanage or monitor office attendance and are a remote-first company. We trust our people, which gives them the confidence to innovate.
Our values and culture also make it so innovation is ingrained in the way we work. We were the first to use artificial intelligence across our processes and we always strive to stay ahead of the curve. We're not shy about taking some calculated risks. We've taken a global approach since the very first day, which some might consider a great risk, but we saw it as an opportunity to reach our goals and create the best solution for our customers across the world.
We're also a user-centric organisation, we focus on the satisfaction of our customers and gather thousands of feedback messages every month. We then analyse it and work together, as a team, to overcome each of their challenges and to make expense management the easiest part of their work.
All of this is possible by having a clear alignment with our shareholders, Marlin and Sodexo, who have been the cornerstone of our journey. Our relationship is built upon trust, transparency and honesty, and we're not afraid to share our setbacks, along with our successes, and brainstorm solutions together to make our business move forward. For that, I would like to send a special gratitude to Jeremy Nakache, Mogens Elsberg, Ana Sabbag, Paul Gaillard and Julian Kolesch from Marlin Equity, and Aurelien Sonet and Nicolas Morel from Sodexo, whose support has been indispensable.
The future awaits...
We've been able to reach some great milestones as a team, but I know in my heart the future still holds a lot for Rydoo over the upcoming years.
One of the things I wish is to continue fostering a great company culture. One that not only makes employees happy — our employee NPS is systematically above 40, which shows our team's motivation to continue working at Rydoo — but also attracts the best possible talent.
I'm a firm believer that if you're happy and enjoy the work you're doing, you'll be better at it. And I know that the fact that we care about each other and enjoy spending time together is one of the reasons why we've been so successful during our journey. We love to take some time to unwind together after work, sit down and grab a few beers, have a party and even hang out outside of work (and not talk about work). I hope we can continue to do so over the next five, ten or even fifty years.
We also want to keep on growing. Today, although we serve customers all over the world, we are more visible and dominant in Europe. In 5 years, I want Rydoo to be the undisputed leader in expense management in five continents… or, at least, four. I'm ok with leaving Antarctica for the competition. Too chilly out there for us Europeans.
For that, we need to work on expanding and strengthening the value of our solution to the CFO and the Finance team. We want to take our system to higher mountains and make it a tool that's essential for CFOs and Finance teams worldwide, one that creates an even bigger impact in the way they do their jobs. And we now have a great ally that will be essential in this new era: Artificial Intelligence.
We've been using AI since day one in our operations, but we are now moving a step further and leveraging creative AI. We have and will continue taking the latest and most advanced technology out there and using it to our advantage, so we create better digitised solutions that bring more value to our clients.
Last, but certainly not least, I wish to achieve a goal that's really close to me, personally. Reach net-zero gas emissions by 2025. This is a topic that I've been passionate about since we created our sustainability project — Project Sus – at Rydoo. It's something we've been working on for quite some time, and I know we will reach this goal, making our company more sustainable and the world a better place for us, and for future generations.
It's been five years of great challenges, big milestones, and amazing moments that we've shared together. When I look back, it feels like Rydoo has always been a part of my life, even though we've only been here for five short years.
This company means a lot to me, personally. It's a different company, it has this special uniqueness to it that combines a lot of things, from our growth to our personality, to our highly talented team, to the partnerships we've established with our shareholders. All of these things combined make me honoured to be part of this organisation.
I'm proud of the group of people who work on a daily basis to create great outcomes, and each team member should also be proud of their individual achievements. Because it's not just about what we achieve, but the road we took to get there and how we deliver it.
I'm honoured and feel lucky to be the CEO of this company. And my biggest wish is that five years from now, we will have a wall full of messages from our customers telling us about how Rydoo changed their lives. Because this is what Rydoo is all about.